The Trouble with the Pope: a Journey into My Own Preconceptions

The Guardian
September 13, 2010

http://www.guardian.co.uk/media/tvandradioblog/2010/sep/13/peter-tatchell-trouble-with-the-pope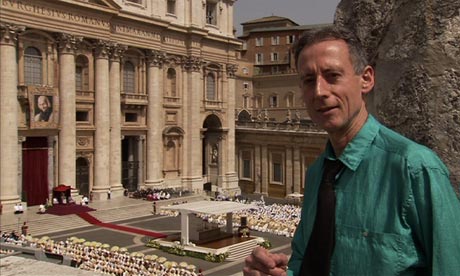 The Trouble with the Pope: Peter Tatchell outside the Vatican. Photograph: Channel 4



I was surprised when Channel 4 invited me to author and present its flagship documentary on the pope, which is being broadcast tonight, three days before the pontiff's state visit to Britain. My criticisms of papal policy are very controversial. Besides, what could I say that was not predictable?

Early on, I decided to deviate from what might be expected of me. Instead of a ruthless Christopher Hitchens-style evisceration of Benedict XVI, I opted for a more subtle approach – and a degree of open-mindedness. I was ready to confound my own preconceptions. And I did, in some respects. I discovered that when he was plain Joseph Ratzinger, the pope was an inspiring, popular university lecturer. He initially supported the liberalising Second Vatican Council. But he was traumatised by the student protests of the late 1960s. His fear of chaos and revolution turned him into a conservative who believed that authority and tradition must be preserved at all cost.

Another surprise during filming in Germany was the extent of disaffection with the pope among lay Catholics. Even in his home region of Bavaria, there is widespread disquiet at his mishandling of the child sex abuse scandal and his readmission to the church of the excommunicated holocaust denier, Bishop Richard Williamson.

Rather than interview atheists like Richard Dawkins, which would have played to expectations, I chose to interview mostly Catholics, both allies and critics of the pope. To some extent, the film reflects a debate within Catholicism, between the liberal and fundamentalist wings of the church.

I wanted to give Catholic leaders an opportunity to put their side of the story. When we went to Rome, the production company, Juniper TV, requested an interview with Pope Benedict or a senior cardinal. The Vatican turned us down. Our approach to interview Archbishop Vincent Nichols in London was also knocked back, with the rebuke: "We do not wish to co-operate with a programme presented by Peter Tatchell."

Although the church did put up a spokesperson at the last minute – Fiona O'Reilly from the pressure group Catholic Voices – it strikes me as a sign of weakness that no Catholic leader from the Vatican or Britain was willing to be interviewed in defence of the pope.

I'm well known as a campaigner for gay rights but the film focuses mostly on other issues: the pope's opposition to contraception, embryonic stem cell research and condom use to prevent HIV; as well his collusion in the sex abuse cover-up, his distortions of Cardinal Newman's theology and his readmission to the church of Bishop Williamson.

Contrary to what the critics say, this is not an anti-Catholic film. Indeed, some of the inspirations of my human rights campaigns have been Catholic humanitarians, including the editor of the Catholic Worker, Dorothy Day; US anti-war activists Fathers Daniel and Philip Berrigan; Archbishop Oscar Romero of El Salvador; and the theorists of liberation theology, Gustavo Gutierrez and Leonardo Boff.