There's Nothing Weird about Being a Catholic and a Liberal,' Says 'Tablet

The Independent
September 12, 2010

http://www.independent.co.uk/news/media/press/theres-nothing-weird-about-being-a-catholic-and-a-liberal-says-tablet-editor-2076829.html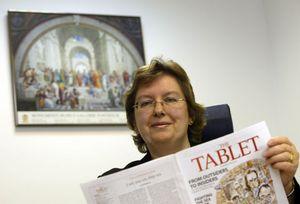 Catherine Pepinster is looking forward to the Pope's visit, but not as much as some on the right of her religion would like



Catherine Pepinster reveals herself in mysterious ways. If the 51-year-old editor of The Tablet, the liberal Catholic magazine, is excited about this week's Papal visit, she is careful to hide it. "It is..." Pause. "A once in a generation event," she says. Pause. "I am excited, but we feel like we've been building up to this moment for months."

Perhaps one reason why Pepinster is not more enthusiastic is that Benedict XVI is a more conservative Pontiff than she would prefer. He is also not John Paul II. "He was a much younger pope, a dynamic individual," she says, "Benedict is certainly a controversial pope, and he's not a rock star. I think John Paul II was more of a rock star."

Pepinster's apparent ambivalence towards Benedict has enraged some on the Catholic right, such as Damian Thompson, editor of The Catholic Herald, who recently described The Tablet as "a publication out of control".

In his blog for The Daily Telegraph, Thompson has blasted Pepinster for various issues, including The Tablet's criticism of the Pope – even calling for her resignation. Does it bother her? "That kind of blogging is quite bullying," she says. "I don't think it shows the Church in a good light, so I don't think he's doing any of us any favours." After a pause, she warms to her theme. "The Tablet is not out on some progressive limb, we're not extremists. We're quite mainstream."

Over the coming days, The Tablet will certainly become more visible, launching a marketing push with adverts in newspapers and a stronger presence on newsstands. It is also relaunching its website. When the Pope's not in town it can be difficult to find a copy of The Tablet; but this is part of Pepinster's strategy to cultivate readers through subscriptions, which now account for 80 per cent of its 22,000 circulation.

When the paper was founded in 1870, British Catholics were either from the urban poor, mostly Irish immigrants, or the few grand old families that survived the Reformation. Since then, The Tablet has benefited from the emergence of an intellectual Catholic middle class, typified by its first editor, Frederick Lucas, a Quaker convert, who wanted a forum to debate religious and political issues of the day.

While some of the issues covered then remain pertinent now – the liturgy, the education of the poor – Catholics today face several much thornier issues, like Aids in Africa, gay rights and child abuse by Catholic priests. For Pepinster and her staff, this has been particularly difficult. "There were times when it was hard to defend the Church," she admits.

"People working here felt it too: stories about abuse were coming in thick and fast and we had to think about it all the time. We had a duty to report it, but you also wondered, is there a moment when the readers switch off? We ran a lot pieces trying to explain why people would behave like this."

The worst aspect of the abuses scandal was the extent of the cover up, she says. "It's hard to understand why people would think the reputation of the Church mattered more than the suffering of the victims."

Her professional background is in newspapers, having held several executive positions at this newspaper and The Independent before joining The Tablet in 2004. Giving up the buzz of a newsroom for a small staff and offices in Hammersmith was a wrench but has not been without its rewards, she says. "Religion is a big issue these days. Since 9/11, religion has been much more to the fore. It's a big topic in society, so it doesn't feel like I'm in some little backwater. It feels as if I'm part of what's going on."

For 10 years, from her mid twenties, Pepinster lost her faith, and she admits to still having doubts. There are aspects of the Church's teaching, such as on contraception, that she also finds "difficult". "But I also know that the Catholic faith makes more sense to me than anything else. You may have bust ups with your parents but you still feel your family is where you should be."

Pepinster is keen to defend the Church, pointing out that it is, for instance, one of the major educators of girls in the developing world. But how does she square being a liberal with its position on, say, homosexuality? "It's not unusual to be a liberal and a Catholic," she says, "Look at Cherie Blair, or Helena Kennedy. It's not weird. There are areas of difficulty without a doubt. The issue of homosexuality links into Catholic teaching as a whole: it's to do with how they see sexuality. These issues are meat and drink to The Tablet, so I'm happy to run a magazine that explores them. We are trying to provide a forum for ideas. It would be a very boring magazine if it was only full of pieces that I agree with."