Ontario Priest Accused of Sexually Abusing Two Boys

By Tony Barboza
Los Angeles Times
September 14, 2010

http://latimesblogs.latimes.com/lanow/2010/09/ontario-priest-accused-of-sexually-abusing-two-boys.html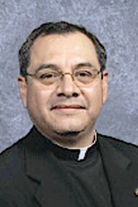 Rev. Alex Castillo. Credit: Diocese of San Bernardino



A Catholic priest from Ontario has been removed from active ministry after being accused of sexually abusing two adolescent boys, according to the Diocese of San Bernardino.

Rev. Alex Castillo, 57, pastor of Our Lady of Guadalupe Church in Ontario, was removed on June 25, a day after the diocese received "credible allegations of sexual abuse of minors" from family members, diocese spokesman John Andrews said.

The allegations were made public in a letter read during weekend Mass at the four churches where he served.

Andrews said the abuse was reported within a day to Ontario police.

Ontario Police Sgt. David McBride said the department was not contacted until early July, when it began an investigation into the allegations. The investigation is ongoing, and no arrests have been made, he said.

Castillo could not be reached for comment, but Andrews said the priest maintains that he is innocent.

"We are obviously very saddened and dismayed by this allegation because we believe that the sexual abuse of children is unacceptable, it's criminal and it's a sin," Andrews said.

Castillo, who has worked at Our Lady of Guadalupe since 2003 and was named pastor in 2006, has been the subject of a previous complaint involving an adult, but the diocese deemed it "not credible," Andrews said.

The removal means Castillo may not celebrate Mass or have any interactions with parishioners and that he has been relocated from his home near the church grounds, Andrews said.

A member of the diocese since 1988, Castillo has also worked at St. Anthony in San Bernardino (1988-1989); St. Catherine of Siena in Rialto (2000-2003); and St. George in Ontario (2006-2008). Before that, he worked for several years at the California Catholic Conference, which represents the state's Catholics on legislative and social issues.

Diocese officials asked anyone aware of abuse by Castillo to report it to police or the diocese abuse hotline at 888-206-9090.