Text: Mark Dowd's Icn Lecture on Pope Benedict and the Media

Independent Catholic News
September 14, 2010

http://www.indcatholicnews.com/news.php?viewStory=16713

The award-winning journalist and filmmaker Mark Dowd gave the inaugural Independent Catholic News lecture last night at Heythrop College, in London, on the subject of Pope Benedict and the Media. The event marked ICN's tenth birth and was followed by a reception with food and music from JJ Stillwell and his jazz trio. Around 150 people attended including clergy, religious and leaders of Church organisations from the UK and abroad. In his introductory comments, Fr John McDade SJ, Principle of Heythrop praised ICN's "ten years of service to the truth".

The text of Mark Dowd's lecture follows.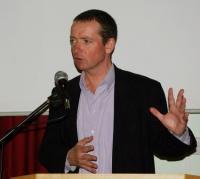 Mark Dowd



I'd like to thank Jo and all at the Independent Catholic News Service for the opportunity to share a few thoughts with you just three days before the arrival of Pope Benedict this week. I'd also, somewhat surprisingly, perhaps, like to thank Peter Tatchell – for it's clearly the prospect of your coming across his Channel Four programme, The Trouble With the Pope, which has got scores of you fleeing your homes and making a beeline for Heythrop College here this evening. God has a wonderful sense of humour and I can't be the only one who's thinking it just a little weird that the two principal films on national television about the Bishop of Rome this week are both being fronted by openly gay men. But that, judging from the previews, maybe is about all we have in common – and frankly, that's not an awful lot at all if truth be told.

It's not common for a Catholic to begin a public lecture by delving straight into scripture.

"I pray that they will all be one, just as you and I are one--as you are in me, Father, and I am in you. And may they be in us so that the world will believe you sent me." (John 17:21)

The unmistakeable words of chapter seventeen, verse twenty one of St John's gospel.

Unity in the Catholic world, never mind the Christian world comes along fleetingly and when it does, you cherish it – you savour it. So in a world divided between "ultramontane restorationists" and "post conciliar liberals" screaming "Council betrayed", we can thank the PR crisis in the present church for at least one thing – bestowing upon us all a rare proposition of agreement. If both the Tablet and the Catholic Herald can devote passionate editorials to the subject, as they have in recent weeks, you kind of think that something might need addressing. That's about as close you get to consensus.

Lady Carla Powell, writing only two weeks ago in the Tablet, told us that Catholicism had become a byword for incompetence and that "something radical" needed to be done about communication. If she had five minutes with the Pope, she told us, "I would tell the successor of Peter about the other Peter – Lord Mandelson. He, we were told, would make a wonderful Catholic.…"look at St Augustine," says Lady Carla, "Lord make me good but not yet," a superb piece of theological spin worthy of Mandelson at his best." Well this is, surely, a case of being spot on with the diagnosis but not with the remedy. The Church doesn't need more "spin", if by that term you take it mean a practising of all the black arts associated with modern political parties in the last decade or two. I'm not sure this would enhance trust with the world at large. No, what it needs is a massive injection of common sense, empathy and organisation – moreover it needs greater collaboration within its ranks to turn the corner of its present low of media gaffes and poor presentation of its message.

In the words of the redoubtedly fair Vatican commentator, John Allen, who writes for the National Catholic Reporter:

"What I usually say when people ask me what I think of the Vatican's communication strategy is that as soon as I see evidence that they have one I'll be happy to comment on it."

So, Rome: we have a problem. This is what I want to do tonight: I want to offer a stab, based on fragments of evidence, of what Pope Benedict himself might make of the media and we'll be using a video clip or two to help us digest some of this.

Secondly, I want to offer one or two case studies such as the Regensburg and Williamson affairs to offer a little moré detail of what went wrong – lessons learned, if you will. And finally, with your help, raid the expertise of this room and try and hammer out some concrete practical suggestions of what might be done in the long term to make sure that, in the future, Lady Carla Powell doesn't feel quite so sheepish about defending the church's public image.

So, what does Joseph Ratzinger make of the media? I'm grateful to Helen Grady, my BBC colleague who produced last week's Radio 4 programme on Catholicism in Britain since 1982, for this little insight. In the mid 1990s according to one unidentified source in the Congregation for the Doctrine of the Faith, TIME magazine wanted to conduct an extensive interview about the theology of one Cardinal Ratzinger. They sent a senior correspondent who spent hours and hours recording the long and intricate answers to questions on pressing issues of church and contemporary theology. When the issue appeared, however, the present Pope was not a happy man. Expecting to see long, uninterrupted quotations on page after page of the magazine, his principal thoughts had been summarised into short, neat, box-like perorations. He felt betrayed. Why couldn't they just print what he had said? This episode suggests many things. First, an inability of the people in the CDF to elucidate a clear idea in advance of what they were getting into: the style and parameters of the piece and of what the eventual output format might look like. But also a distinct lack of trust, on the Cardinal's part, of being summarised, of being edited. In short, of losing control.

We all live in fear of being "stitched-up", of being misrepresented. But the truth is that for every one so-called hatchet job, there are dozens of times when, broadcast journalists especially, intervene to make people sound a lot more cogent and fluid than they really are. Secondly, editing is essential to the narrative of human affairs. If you don't believe me, just think back to the last time you asked a colleague what they did on their holidays and after thirty minutes, you are still there are they go into every minute detail of how the tyre on the Land Rover blew on the way down to the Channel Tunnel.

I mentioned the word "control" – and this is a theme I want to develop with another piece of evidence, this one visual. The date is June 2002 and the context is very informative. It's six months after the Boston Globe has unearthed and published hundreds of documents implicating Cardinal Bernard Law in cases of abuse cover ups. The US media is in overdrive and as cases emerge out of the woodwork all over the USA, American Cardinals and Bishops are summoned to Rome for an emergency meeting. One US correspondent from ABC news has been pursuing the case of Father Maciel Macial, who has been at the centre of allegations from several men since Jason Berry published a groundbreaking investigative piece in a Hartford newspaper in 1997. This short clip featured in the Channel Four film that was shown in January 2003 called, Abused and Catholic.

FILM EXCERPT: Jospeh Ratzinger is "doorstepped" by a US reporter and gets visibly angry, gently slapping him twice on the hand.

Now in defence of the present Pope, it must be said that this clip shows him in a very unrepresentative light. Among the many people I have met who have had dealings with him, the consensual opinion is that he is rather shy, softly spoken and extremely courteous. This image of him getting flustered and telling the reporter, "you will come at a time when I say so," is most unusual. I think there are two significant things which might explain his reaction here. First, he is doorstepped by the reporter just minutes after finishing saying mass in a private chapel. Apparently the ABC team had a tip off that that was the best place to find him as it is part of his early morning schedule. For a man who takes liturgy and the sacrifice of the mass as seriously as he does, to be subject to this sort of encounter so soon afterwards would, I would conjecture, be rather unwelcome. Moreover, this was a seminal week in relations between the Vatican and the media. Every US network had sent scores of journalists, satellite dishes and productions teams: one Cardinal said, off the record, that he opened the windows to his office off St Peter's Square and saw the sight of this American invasion and felt under siege. It's been suggested, by a number of the Rome –based people who work with visiting news and documentary crews, that the Vatican draws a distinction between Anglo Saxon media and the rest. The former, and we're talking here largely of US, UK and Canadian outfits, are renowned for being more pushy, less deferential and therefore are frequently less likely to get granted access and interviews. Humans, in all walks of life, Vatican included, often understandably opt for the line of least resistance. The price that's paid is, of course, that the church's view often goes unrepresented and is unheard in broadcasts in this country. Tonight's Tatchell programme is, I understand, a classic example of this.

But that clip is instructive, because it confirms a fear I have about the earlier TIME magazine story, about apprehension and distrust. Those themes certainly are echoed in accounts of what happens on the papal plane when the travelling press entourage are allowed their twenty minutes or so with the Pope. This is the account of one journalist of the way things have changed since 2005:

"In the old days on the early trips with Pope Benedict, it used to be a real presser. Journalists would be in a hurry to get off the bus and onto the plane to get in the front row which gave you a better chance of being called on when the Pope came back. Then, Father Lombardi, (who became head of press by the summer of 2006), decided it would be more fair to everyone if we all submitted our questions days beforehand. Then he would pick four or five that would represent common themes and call upon people to ask them on the flight. I always thought the question being asked was submitted by the same person but his was not the case. Sometimes you got asked to read out other peoples questions! Then the next stage came when Fr Lombardi, under the guise of saving time, decided to ask the questions himself. Then on one trip, possibly Malta this year, the Pope came back and just gave a statement based on unspoken questions that he had been given by Father Lombardi earlier on."

What emerges is a picture of ever increasing control and less and less trust, a theme I want to return to towards the end of this lecture.

Of course, we mentioned Father Lombardi there and I want to share with you now a four minute section of the film that will be shown on Wednesday night on BBC2: Benedict: Trials of a Pope. In the film, we have visited the Regensburg and Richard Williamson PR disasters and I end up going to a chat with the Tablet's man in Rome, Robert Mickens, a man who has covered the Vatican beat for the best part of thirteen years.

EXCERPT from the film with Robert Mickens.

Journalists who worked in Rome in the pontificate of Pope John Paul II talk with mixed feelings about Joaquin Navarro-Valls. Here was a man who knew what he wanted and was described as occasionally wily and yes, even manipulative. But many members of the fourth estate were prepared to forgive such qualities because he knew the mind of the Bishop of Rome. He was taken into full confidence by the Polish Pope. If you got fifteen minutes with him and he said, "the Holy Father thinks this or that," it was taken without question that this was true. This is gold dust to the media who can write stories which are authoritative and impeccably sourced. Fr Lombardi, it appears, does not play the same role. If Pope Benedict does talk and confide in people, it appears to be a very small circle, largely regulated by his devoted Secretary Monsignor Georg Gaenswein, taking in Cardinal Bertone, the Secretary of State and one or two others. But none of these replicate this Navarro-Valls role of interface with the media. Under pressure and without information, many hacks get frustrated and impatient, their subjective disposition towards what they are writing about can be subject to strain.

This isolation, living in a cocoon, I think is largely a contributory factor to the Regensburg and Williamson debacles. Of the five thousand plus words of the Regensburg lecture whose ostensible focus was rationality and faith, only some five hundred and fifty, about a tenth, touched on Islam. Benedict was concerned to address the topic of forced conversion and all the subsequent damage comes down to just a few words:

"Show me just what Muhammad brought that was new and there you will find things only bad and inhuman, such as his command to spread by the sword the faith he preached."

To be fair, the pope did distance himself by saying that our fourteenth century Byzantine Emperor, Manuel II, had used the words "somewhat brusquely." After all the flack in the Islamic world, the text was amended on the Vatican website many days later and the intro was rewritten. In the new version, the Emperor's words showed a: "startling brusqueness, a brusqueness which leaves us astounded". But too late. Defintely a case of slamming the stable door after the horse has bolted. Various riots ensued and of course a nun was murdered in Somalia. It seems clear to me that that Pope was quoting words he did not necessarily agree with. But "somewhat brusque" is altogether too weak a qualifier for the hi-octane quotations which followed. It might be argued, counter-intuitively, that the subsequent hostile reactions proved the Pope's point entirely: that in the realm of fiaht once rationlaity departs we are in serious trouble. The fact is, the quote was a disaster. Someone should have spotted it – pointed it out. Who? Not Fr Lombardi, who told me in an email exchange:

"The Press Office … does not have responsibility for the texts of the Pope, and normally does not participate in the preparation. It receives them ready for the publication. The Secretariat of State has the responsibility to collaborate with the Pope for the preparation of the texts. Persons with a specific competence are often called to give contributions."

One such person with a specific competence could have been long-time Vatican interfaith expert Archbishop Michael Fitzgerald, but he was surprisingly despatched to Egypt six months before the lecture. I do not know for certain whether he was shown the text or not, but I assume not, as I cannot believe that a man of his judgement and experience would not have sounded the warning bells. Is this the price to be paid for having an inspiringly gifted teaching Pope, a man who in his academic incarnations in Tubingen and Regensburg would not, as a customary state of affairs, have been used to circulating copies of his lectures to colleagues prior to delivery? A man perhaps for whom the word "consensus" does not appear to figure large in his view of the world.

Then theWilliamson affair. We've all smiled at the admission in the Pope's apologetic letter to Bishops, in which he coyly admits that all this information about Richard Williamson's holocaust-denying views would have been available on the internet if only they had checked beforehand. "In the future, we in the Holy See have learned that we are going to have to pay more attention to that form of news," he says. I someone find it hard to believe that no-one knew about all this beforehand given the fact that the process of détente between the renegade Lefebvrists and the Vatican had been going on for months and months. But be that as it may. The Holy See press operation now is on Facebook and Twitter and we have landed, feet firm, well and truly in the twenty first century. As Bernard Lonergan once wrote: "the church sometimes arrives a little late, a little, breathless. "But let's have a closer look at this story and see whether Pope Benedict, at times of media crisis, is always being best served by those around him.

In a fascinating book only released in Italy some two weeks ago, authors and Vatican bloggers Paul Rodari and Andrea Tornelli, have some new information about what happened after the news broke in Der Spiegel of Williamson's holocaust denying remarks. On January 22nd 2009, a high level meeting took place at which relations with the Society of Pius X was the main subject on the agenda. It was attended by a stellar cast:

Cardinal Levada from the CDF, Cardinal Bertone, the Secretary of State, Cardinal Battista Re from the Congregation of the Bishops, Cardinal Castrillon Hoyos who had special responsibility for relations with the Lefebvrists and Cardinal Hummes for the Congregation for the Clergy. This was the day AFTER Williams' remarks had aired on Swedish TV and news of it was now running in the German press. The authors have based their account on previously unpublished accounts of minutes of the meeting which were leaked to them. The mind-blowing point is that during the meeting, there was no mention whatsoever of Williamson's explosive comments on the Holocaust, despite the fact that they had been in circulation for nearly two full days. The minutes reflect a detailed discussion about whether, and how, the lifting of the excommunications applied to other clergy of the Society of St. Pius X, but there was apparently no consideration of how this move might go down in the broader court of public opinion.

But also look at who was NOT included at that meeting. Father Lombardi, who would have to later face the world's media, and Cardinal Walter Kasper, who would have to face the understandably irate ranks of world Jewry.

The decision to rescind the excommunication order went ahead and was announced two days later and that is when the PR meltdown began. "Vatican backs holocaust deniers" was the headline all over the world. All this could have been avoided at that January 22nd meeting if only somebody somewhere had done their job. This is certainly one story where you can't blame Pope Benedict.

Fr Lombardi's role in all this in something rather akin to an episode of the West Wing. Aficionados of WW will recall the frequent uncomfortable press conferences faced by White House Press Secretary, the magnificent CJ, Claudia Jane Cregg, a Catholic let it be said, played by Alison Janney. On one occasion she's wrong-footed at a press conference by a reporter whose impeccable Pentagon sources give rise to a series of detailed questions as to whether the US adminstration knows anything about the movement of Indian troops in Pakistan controlled-Kashmir. She issues a flat denial of the story informing the reporter that she was in the Oval Office only twenty minutes ago and she would have been sure to have heard about it had it been true. After the press conference, she recounts the tale to the White House Chief of Staff in earshot of the president. The body language of both men betray that she has been kept out of the loop. She retorts furiously that she has just damaged her reputation with the press. Both men smile. "But you didn't lie," comes the riposte. "You couldn't have lied because you didn't know the truth." I don't want to spoil the fun, but if you get the chance to watch Wednesday's film on BBC2, you may get to see a scene in which something of these dynamics are repeated inside the Vatican.

But back to the Pope, for after all, this lecture is entitled, "Pope Benedict and the Media." I think one of the other issues that arises is that this is a fantastically clever man whose language is often opaque and hard to sum up in neat simple messages which the modern media world demands. Try, for instance, defining the central message or theme of this pontificate in a simple sentence: not an easy task. Try turning complex endeavours like "finding common ground with the secular world in an age that has turned its back on objective truth" into a snappy slogan. You might answer, "so what?" If the likes of Rowan Williams and Joseph Ratzinger don't want to play the media game, that 's a problem for journalists surely and not for them. Why should they compromise complexity and nuanced, subtle thinking for the sake of getting on BBC News 24 for thirty seconds? Well, up to a point. Let me share with you a little story from December 2008 which shows what can go horribly wrong when what you want to say is not exactly the model of clarity.

The twenty third of December. Eight in the morning, the last day in the Operation Noah office before Christmas awaits me and as I am making the coffee, I notice the flashing light on my mobile phone which gives way to a message from the Press Association's religious affairs correspondent, Martha Linden. I can hardly believe my ears. "I just wondered what you made of the overnight remarks by the Pope on the relationship between deforestation and homosexuality." What on earth could this mean? Were there gay indigenous tribesman in the Amazon whose sexual antics were so earth-shatteringly resonant that they were leading to the collapse of hundreds of strangler fig trees? I played the message again and again. I checked my wall calendar: maybe it was really April 1st? Then I checked online for the remarks given in the Clementine Hall to members of the Episcopate and Presbyterate.

The church, said the Pope, "must not only defend earth, water and air as gifts of creation belonging to all. She must also protect man from self-destruction. What is needed is something like a human ecology, correctly understood. If the Church speaks of the nature of the human being as man and woman, and demands that this order of creation be respected, this is not some antiquated metaphysics. What is often expressed and understood by the term "gender" ultimately ends up being man's attempt at self-emancipation from creation and the Creator.

Then a sentence later came this: "Rain forests deserve indeed to be protected, but no less so does man, as a creature having an innate "message" which does not contradict our freedom, but is instead its very premise."

There is no mention anywhere in this text of homosexuality, but that did not stop the media reporting is as a homophobic rant. If anything, with the hindsight of looking at the original Italian, it looks like an attack on academic gender theory, but there are two morals from this story. One, be as clear as possible about what you are saying, otherwise the whole media machine can go off at any tangent possible. And secondly, don't raise these subjects during really slack periods of the news cycle, like a day or two before Christmas. That day the broadcast media had to touch on a story with Green, gay and Catholic credentials and found in yours truly, someone who miraculously ticked all the boxes. When the man from Sky TV turned up at the office, he told me that this was running as the lead story of the day. "What?" I said. "How come? That's not possible. You must be desperate." "Tell me about it mate, it's pathetic, " came his reply. "All morning we've been leading the bulletins on Whittards' Coffee chain going bust."

Which brings us to the crux. Is the Pope really that bothered at all about the media? In January of this year in a message for Communications Day he spoke about the opportunities now being presented by new media.

"Priests present in the world of digital communications, " he said, "should be less notable for their media savvy than for their priestly heart, their closeness to Christ. This will not only enliven their pastoral outreach, but also will give a "soul" to the fabric of communications that makes up the "Web".

I have never spoken to the Pope on this subject, nor do I ever expect to. But my hunch would be that his experiences with TIME magazine, and headlines over the years on the sex abuse issue may well have given rise to a certain Ratzinger pessimism. This is a man who was traumatized by war and by the atheistic student revolts in Tubingen when he was an up and coming university professor. As Hans Kung says in Wednesday evening's film, "he suffered a trauma and I do not think he has yet digested intellectually what happened to him." A man who is naturally timid and wary of much of modernity does not engage with the world of a rapidly changing media easily. It is very telling how, when he does open up to the world, he chooses outlets which are within his own very strict comfort zone. His only real dialogue with the press took place in a rather carefully controlled exchange with members of the German press a couple of years ago, while another German journalist, Peter Seewald, with whom Pope Benedict obviously feels comfortable and who wrote the 1996 book, Salt of the Earth has spent a lot of time at Castel Gandolfo this summer working on a follow up work. These books are welcome and add a fair bit to our knowledge of the man. But the journalists who are carefully selected to write them up are not generally renowned for asking questions that might be deemed "difficult" or, hazard the thought, "confrontational."

This underlying fear and unease, takes us back to some massively unresolved themes in the evolution of our Church. If Pope John XXIII wanted to let in fresh air by opening the windows of the church. to what extent is the secular press part of a perceived compromised modernity – an air less notable for freshness than dankness, stuffiness?

Is the media a threat to "la bella figura," the external reputation of the Church or an integral part of the evangelisation process and if so, how do we use it to spread the Gospel effectively to all ends of the Earth?

Article 44 of Gaudium et Spes, the final conciliar document to be signed and then presented in December 1965 at the Second Vatican Council gives a lot of food for thought as we ponder the interface between Church and the massive media world:

"With the help of the Holy Spirit, it is the task of the whole people of God, particularly of its pastors and theologians, to listen to and distinguish the many voices of our times and to interpret them in light of the divine Word in order that the revealed truth may be more deeply penetrated, better understood and more suitably presented."

More suitably presented. All that in a subsection entitled: "what the Church receives from the modern world."

Back in 1984, Pope John Paul II said he wanted the Vatican to be what he called a "house of glass," where everyone outside can see what is happening and how it carries on its mission in faithfulness to Christ and the evangelical message.

Twenty six years on and that is still a dream. The reality is that a lot of the operation is still just a little bit too much "make it up as you go along." As John Allen wrote in his book: "All the Pope's Men":

"As of fall 2003, the Catholic Church's chief liturgical officer had no background in liturgy, its top official on missions had never been on a mission, its education czar was a canon lawyer and the man who ran its ministry of health had no medical training."

I don't expect huge changes under this pontificate, although Fr Lombardi assures me that more is happening in the way of co-ordination of speeches. But the PR gaffes and at times, amateurish communications performance from the Holy See speak of an institution lacking in empathy: at times, just frankly unable to see how it looks to the outside world.

So I want to end this address with an invitation. Gathered here tonight we really do have a cocktail of impressive individuals, lay and clerical and from all walks of life. I just want you to rack your brains for ideas, suggestions of what might be done to help this organ of the Catholic World, la sala stampa, the Vatican press operation, do better. Do we second Cardinals and bishops to newsrooms for a week to help them see how stories are reported and headlines chosen? Does the Vatican pay through the nose and recruit a top layperson with huge corporate experience and hand the job over to her or him? Do we get the relevant sections of the Holy See on retreat and get them to see the whole series of the West Wing? On the strips on paper which are on your seats, just take a minute or two to come up with an idea: however left field, however apparently unorthodox, and Jo will publish a selection of these on the Independent Catholic News website.

My suggestion? One welcome addition would be, from time to time from its officials, a little bit of self-deprecating humour. Of course, I don't intend the Pope this week to suddenly turn into a stand-up comic at Bellahouston Park or in Westminster Abbey, so if we can't rely on him to tell a good Cardinal Ratzinger joke, I'll do it for him and end on this note.

Outside the pearly gates, Moses, Muhammed and Joseph Ratzinger are awaiting judgement. Out comes St Peter with a clip board. "Moses please," In goes Moses and after half an hour he emerges, smiling gently but scratching his head. "The good news is that I'm saved," he says. "But how could I have got it so wrong?" After a short interlude, St Peter again emerges. "The prophet Muhammed please." Half an hour later he too emerges looking relieved, but somewhat perplexed. "I too am saved," he tells the other two. "But how could I have got it so wrong?" Joseph Ratzinger looks on calmly and awaits his moment. "Joseph Ratzinger" cries St Peter. Up he goes and disappears from view. Half an hour elapses. Nothing. A full hour goes by. Nothing. Moses and Muhammed exchange puzzled looks. The tension mounts. A full THREE hours pass by. There is the sound of a creaking door and approaching steps. But it is not the face of Joseph Ratzinger that emerges. It is Jesus, who makes a beeline straight for Moses and Muhammed. "How," he says, "could I have got it all so wrong?"



Mark Dowd's film: Benedict: Trials Of A Pope is being screened tomorrow night on BBC Two, at 7pm. His radio programmes: In The Pope's British Divisions, broadcast last Thursday, at 9am and 9.30pm, on BBC Radio 4 can be heard on BBC iPlayer.

We will be publishing some of the ideas proposed by last night's audience shortly.