Confusion Reigns As Belgium Struggles with Catholic Sex Abuse Scandal

By Tom Heneghan
Reuters
September 14, 2010

http://blogs.reuters.com/faithworld/2010/09/14/confusion-reigns-as-belgium-struggles-with-catholic-sex-abuse-scandal/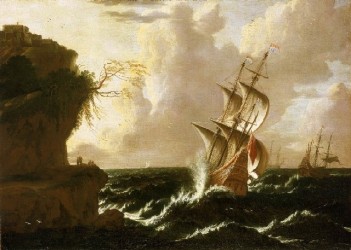 Image: A Dutch Ship in a Storm by Flemish artist Matthieu van Plattenberg, National Maritime Museum, London



Following the crisis of sexual abuse of children by Catholic priests in Belgium is like watching a rudderless ship in a storm. The Church hierarchy seems overwhelmed by the scandal that has engulfed it. The state seems unable to intervene after its spectacular raid on Church offices last June backfired on it. Left hanging are at least 475 victims who have no idea what to expect next.

The latest installment in this confusing drama came on Tuesday when Bishop Guy Harpigny, the bishops' conference spokesman for abuse issues, confessed in two morning radio interviews that the Church botched a news conference on Monday by not issuing a full apology to victims. But — as my colleague Phil Blenkinsop reported in our story today — he admitted it was afraid to do so because that could bring on a wave of compensation demands.

"If we say 'mea culpa,' then we are morally responsible, legally responsible, and then people come wanting money. We don't know what the lawyers and the courts will do with that," he told the Flemish-language Radio 1. "We are afraid. Who will ask — the victims, the courts or someone else? That's why we are so careful." A bit later in the interview, he admitted: "The news conference yesterday was a missed chance for a 'mea culpa'. Maybe the church was too concerned with itself."

The news conference on Monday was supposed to be the Church's response to a report issued last Friday by its own commission for sexual abuse claims. That report was a damning indictment of the Belgian Church, where it said sexual abuse of minors was widespread in the 1960s and 1970s and little was done when cases were brought to the attention of the hierarchy.

"Silence is a sickness in society as a whole," Peter Adriaenssens, the head of a Church commission monitoring complaints, said as he presented the report to the media. "Almost every institution, every school, particularly boarding schools, at one time harboured abuse."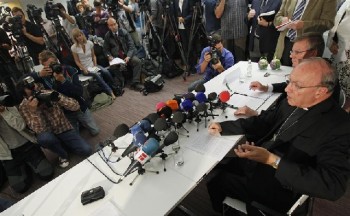 Photo: Archbishop Leonard at news conference on Monday, 13 Sept 2010/Yves Herman



More than half of the 200-page report consists of excerpts of testimony from victims. "In the case of 13 of the victims, it was reported that they committed suicide and this was related to sexual abuse by a priest," it said. The 475 cases it recorded included victims as young as two. Two-thirds were male and boys aged about 12 were particularly vulnerable. In most cases, abuse tailed off when victims reached 15 or 16. Adriaenssens said: "With these testimonies, it was not about superficial handling. It was about oral and anal abuse, forced and mutual masturbation. In other words, it was about people who had experienced serious acts."

The Church's response on Monday was even less than the standard bureaucratic reflex of setting up a committee to study a problem. At a news conference, it announced a plan to set up a support and reconciliation centre for victims, but it wouldn't open until around Christmas. The three bishops involved — Brussels Archbishop Andre-Joseph Leonard, Johan Bonny of Antwerp and Harpigny — spoke about listening to victims, setting new rules for priests and creating new relationships between victims, therapists, the Church and judicial authorities. But there were few details, leaving the impression that the exercise were more about buying time than taking decisive steps to tackle the crisis.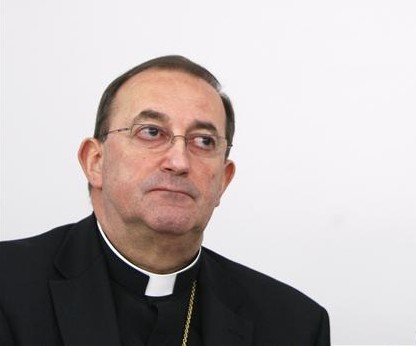 (Photo: Bishop Harpigny at the news conference, 13 Sept 2010/Francois Lenoir)



"The aim of the news conference was to say that we won't abandon the victims following the Andriaenssens report. We want to do something," Harpigny told the French-language radio La Premiere. "Judging from what I'm hearing and what I read in the papers this morning, it's clear that our message didn't get across."

In fact, he said, the Church drew up a more detailed plan for supporting the victims, but when it presented its ideas to Andriaenssens last Thursday, he brought up several objections so it had to be scaled back until they could be answered. As a result, he admitted, "the news conference yesterday was a bit unsatisfactory."

This would seem to be the time for judicial authorities to step in and take over this inquiry, and several critics have called for that rather than have the Church continue to investigate its own sins. But the state already intervened in this case with the spectacular raids on Church offices last June to seize the files Andriaenssens used for his report. A court later ruled those seizures illegal and ordered the files returned to the Church. So the state shot itself in the foot and is now understandably sensitive about taking the next step.

A related issue is the future of former Bruges Bishop Roger Vangheluwe, who resigned in disgrace last April after admitting he had sexually abused his own nephew for 13 years. The Church has not actually punished him in any formal way yet. Pope Benedict accepted the resignation that Vangheluwe himself handed in, so he is now a retired bishop with the right to a pension. The disgraced bishop first took refuge in a monastery in his diocese, but has gone into hiding somewhere else as public calls for him to be defrocked grew louder. Harpigny suggested last week he should be put on trial in a canonical (Church) court. But Vatican officials said that would not be possible because he is a bishop. Only Pope Benedict can decide what if anything should be done. Harpigny said he expected a decision from Rome by the end of this year.

Hanging over all of this is also the question of what if anything will happen with Cardinal Godfried Danneels, who has gone — in one critic's words — "from hero to zero" because of his failure to tackle all these problems during the three decades he was Primate of Belgium. He's already retired as archbishop of Brussels but critics are asking whether the Church should sanction him in some way as well.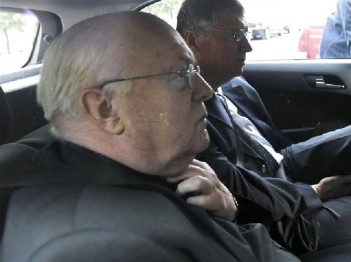 Photo: Cardinal Danneels on the way to police headquarters for questioning, Brussels, 6 July 2010/stringer



It's hard to say what will come next in this drama, but odds are it will not be much clearer than what we've seen so far. Belgium has a reputation for covered-up scandals and botched inquiries such as the embarrassing case of the 1990s serial killer Marc Dutroux. That's why Andriaenssens, while presenting his abuse scandal report to the media, called it "the Church's Dutroux dossier."