Cardinal's Comments Hit Papal Visit

Press Association
September 15, 2010

http://www.google.com/hostednews/ukpress/article/ALeqM5gEwY-8cqfkBehu0ov7RgxVCg3DeQ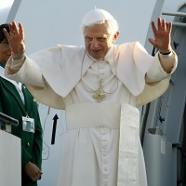 Pope Benedict XVI waves before boarding his plane to Britain (AP)



Pope Benedict's historic arrival in Britain has been overshadowed by comments from an aide which compared the nation with a "third world country".

German-born Cardinal Walter Kasper, 77, who was due to join the Pope's entourage, pulled out of the trip on Wednesday following his remarks made during an interview with the German magazine Focus.

Vatican officials reportedly attributed the change of plans to ill health but his withdrawal followed the interview in which he commented on the Godlessness of a section of English society, claiming Britain was facing an "aggressive new atheism" and that "Christians were at a disadvantage".

Asked about the protests expected to greet the Pope's visit, he remarked on Britain's multi-cultural inhabitants, telling the magazine that someone landing at Heathrow may think they were in a "third world country" as there was such a variety of faces there.

The Catholic Church in England and Wales distanced itself from Cardinal Kasper's comments, saying they were "the personal views of one individual", but the remarks threatened to overshadow the first state visit by a pontiff to Britain.

Pope Benedict will be flown into Scotland where he will meet the Queen and address thousands of pilgrims at an open air mass before travelling to London.

The four-day trip will include a meeting with Prime Minister David Cameron and a prayer vigil in Hyde Park, culminating in a beatification ceremony for Cardinal John Henry Newman in Birmingham on Sunday.

It is the first papal trip to Britain since Pope John Paul II made a pastoral visit in 1982 following an invitation from the Church.

The packed itinerary begins in Edinburgh with a reception at the Palace of Holyroodhouse, the Queen's official residence in Scotland, where the Pope will also be introduced to First Minister Alex Salmond and Deputy Prime Minister Nick Clegg.

Up to 100,000 people are expected to line the streets of the Scottish capital as he is driven through the city centre in the Popemobile to the home of Cardinal Keith O'Brien, leader of the Catholic Church in Scotland.