Clerics Call for Fresh Start at Laois Meeting

RTE News
September 15, 2010

http://www.rte.ie/news/2010/0915/portlaoise_church.html

[with video]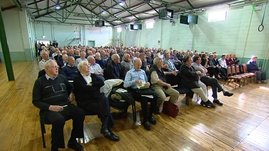 Laois Priests want to air their concerns



Over 300 clerics have turned out at the inaugural meeting of the Association of Catholic Priests in Portlaoise this afternoon.

The meeting, which was initially staged for the parish centre in the town, had to be moved to a nearby hall because a crowd of approximately five times greater than the anticipated attendance turned up.

One of the founders of the new organisation, Fr Tony Flannery, said many speakers had called for a fresh start to be made after recent events in the church.

Some speakers were critical of the way they had been treated by the Catholic Hierarchy in the course of false allegations of sexual abuse.

Another founder Fr Brendan Hogan was given a standing ovation after he addressed issues such as the need for a debate within the church on the role of women.

He said the association would request a meeting with the Vatican representative from Rome when they arrive here later this year to communicate the views and concerns of priests to them.

Fr Hogan said the association was not anti-bishop or anti-anyone, but would be pro-priests.

He said they believed they had a right and responsibility to represent the concerns of priests at this critical juncture in history.