Dutch Ex-bishop Accused of Child Sex Abuse

Radio Netherlands
September 15, 2010

http://www.rnw.nl/english/bulletin/dutch-ex-bishop-accused-child-sex-abuse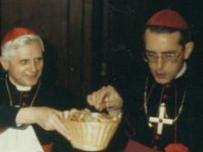 Photo: Bisdom Roermond



The former Roman Catholic bishop in the Dutch province of Limburg, Jo Gijsen, has denied he was involved in any sexual abuse at the Rolduc seminary in the 1960s.

A complaint against the retired 78-year-old was lodged by a former pupil of the seminary near the town of Kerkrade. The ex-pupil said that on several occasions when masturbating at night in the dormitory, he was openly spied on by Mr Gijsen, who made no effort to hide himself behind the curtains.

Mistaken identity

Daily NRC Handelsblad reports on Wednesday that the ex-bishop wrote to the Roman Catholic Help and Justice bureau to defend himself against the allegations. Mr Gijsen stated that the pupil, now aged 63, must have mistaken him for someone else. "It could not have been me," the cleric wrote. The plaintiff told the bureau he had felt "as if he was in Gijsen's power".

In bed

Another former pupil of Rolduc told NRC Handelsblad that Mr Gijsen, supervising during the evening, used to enter the pupils's private cubicles and get into bed with them. This occurred between 1952 and 1955. In response to this complaint Mr Gijsen wrote "I know nothing about getting into bed with pupils".

Bishop Gijsen, known for his uncompromising conservative attitudes towards homosexuality and women's rights, suddenly stepped down in 1993. It later emerged that Bishop Gijsen was aware of sexual abuse taking place at the Rolduc seminary at the time, but failed to take action.