Abuse Victim Asks for Papal Apology for Priests" Crimes

By Peter Wilson
BBC News
September 15, 2010

http://www.bbc.co.uk/news/uk-england-birmingham-11317089

Donald says he was repeatedly raped at a Catholic children's home in Warwickshire

A victim of child sex abuse is calling on the Pope to publicly apologise during his Birmingham visit for the harm caused by paedophile priests around the world.

Donald was repeatedly raped during his time in a Catholic children's home in Warwickshire.

I know because I have known Donald for almost 15 years.

That is not his real name, he prefers to keep his identity hidden out of respect to his wife and children. But he is no stranger to the police, the Catholic Church and to government officials.

He has waged a crusade, some might call it a war, to bring paedophile priests to justice and to make the authorities face up to what was once left hidden and unsaid.

'Taylor's boys'

"I'm doing this for the many other victims who have not come forward, who I know are still suffering and still hurting."

Donald is approaching retirement age but stands with a ramrod straight back and clear unflinching eyes. As a boy growing up in Coventry in the 1950s his family were too poor to keep him and handed him into the care and charity of the Father Hudson Society in Coleshill, Warwickshire.

What happened next was to change his life for ever.

A paedophile priest Father Eric Taylor abused him and many other boys. Forty years later it was Donald's evidence which helped convict Taylor.

The day Taylor was jailed for seven years at Warwick Crown Court was the happiest of his life, Donald said.

"I was one of Taylor's boys, he was an authority figure. He would molest me and rape me in my bed, he would take me into the garage and it's what you did.

"You feared him in many ways, he was a man of God."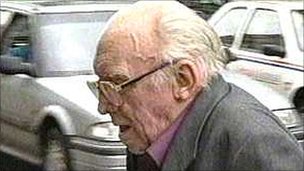 Donald wants an apology for those who were abused for years by priests like Eric Taylor (above)



In recent months Donald has written twice to the Vatican asking for Pope Benedict XVI to make a public apology for the harm caused by paedophile priests.

The Pontiff will lead Mass in Cofton Park, Birmingham, on Sunday as part of a UK state visit.

Donald said: "Here is a most wonderful opportunity for the very head of the Catholic Church, their spiritual leader, who is coming to the West Midlands to say, 'listen, on behalf of the Catholic Church I would like to apologise to you'.

"I think it would settle a rather long-standing, running feeling, that I have, that the Church simply doesn't care about people like me."

Not caring is an allegation the Catholic Church rejects.

Awaiting reply

In recent years it has responded with a number of protection measures. The Catholic Safeguarding Advisory Service which deals with police checks on priests and parish workers is based in Birmingham.

The service's head Adrian Child said lessons had been learnt from the past.

"Our policies and procedures are certainly not dissimilar to those to be found in any local authority in the country.

"They're rigorously applied, they're consistent with government guidance and, in my view without wishing to sound complacent, they're as robust as they can be.

"We can learn from the events of 15, 20 years ago by listening to the stories of survivors and being more responsive to them when they come forward in order to make sure those kind of things don't happen again."

Donald will not be in Birmingham for the Pope's visit. He prefers to remain a thorn in officialdom's side, patiently writing letters, asking questions and lifting stones.

He has overcome his own demons and made a good life for himself and his family, but he has not yet received a reply to his letters to the Vatican.