Benedict Criticises Hierarchy over Child Abuse Response

Irish Times
September 16, 2010

http://www.irishtimes.com/newspaper/breaking/2010/0916/breaking4.html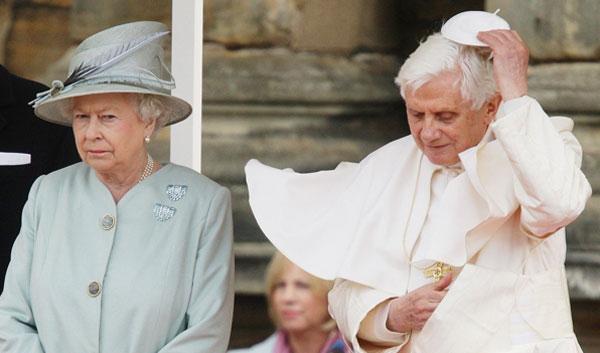 Pope Benedict XVI replaces his zucchetto as he meets Queen Elizabeth II at the Palace of Holyroodhouse in Edinburgh on the first day of his four-day visit to Britain. Photograph: Dave Thompson/PA Wire



Pope Benedict XVI started his four-day state visit to Britain today urging the country to protect its Christian roots and tradition of tolerance in the face of threats from aggressive secularism and atheist extremism.

More than 125,000 people, including protesters, turned out to watch the 83-year-old pope as he was driven through the streets of Edinburgh in a popemobile.

The pope, who is making the first to Britain by a pontiff since John Paul II in 1982, is hosting an open air Mass in front of some 65,000 people in Glasgow's Bellahouston Park this evening.

Benedict has a delicate path to tread in England and Scotland in relations with the Anglican church after his offer last October making it easier for disaffected Anglicans, unhappy over the ordination of women and gay bishops, to convert.

After he was greeted by Queen Elizabeth - titular head of Church of England founded when Henry VIII broke with Rome in 1534 - the pope got to the heart of his message in his first speech on British soil as Catholic leader. He spoke of the "deep Christian roots that are present in every layer of British life".

Speaking to reporters on the plane taking him to Scotland, Benedict acknowledged Catholic leaders had been "insufficiently vigilant" during decades of sexual abuse of children. "These revelations were for me a shock, and a great sadness. It is difficult to understand how this perversion of the priestly ministry was possible," he said. "It is a great sadness. It is a sadness, also, that the authority of the Church was not vigilant enough, was not sufficiently fast and decisive in taking the necessary measures."

The pope, out to win over one of Europe's most secular countries, reminded Britons to beware extremism, saying that the attempt by totalitarian regimes in the 20th century to eliminate God should provide "sobering lessons" on tolerance.

"Today, the United Kingdom strives to be modern and multicultural society. In this challenging enterprise, may it always maintain its respect for those traditional values and cultural expressions that more aggressive forms of secularism no longer value or even tolerate," he said. "Let it not obscure the Christian foundation that underpins its freedoms."

The German pope spoke glowingly of Britain's history and, significantly because of his own background, praised its people for standing up to the "Nazi tyranny" that was wreaked on the country in the second World War.

The queen spoke of the common Christian heritage that Anglicans and Catholics shared, and of their common belief that religion should never be allowed to justify violence and that dialogue could transcend "old suspicions". She also thanked the Vatican for its role in the Northern Ireland peace process.

The pope paid tribute to the Irish Government and their British counterparts for their efforts to secure peace in the North.

"In more recent years, international communities followed closely events in Northern Ireland which has lead to the signing of the Good Friday Agreement and the devolution of powers to the Northern Ireland Assembly," he said. "Your majesty's government and the Government of Ireland, together with the political, religious and civilians of Northern Ireland, have helped give birth to the peaceful resolution of the conflict there."

Police said some 125,000 people lined the streets to cheer the pope. Some150 protesters also turned out, waving gay rainbow flags and banners saying "Pope opposition to condoms kills people" and "Stop protecting paedophile priests."

Protests are expected throughout his visit. Former Northern Ireland first minister Ian Paisley joined a protest by the Free Presbyterian Church in Edinburgh today over the child abuse scandal.

A handful of members from the American group Survivors Network of those Abused by Priests said they would demonstrate. The pope is expected to meet some abuse victims, although nothing has been confirmed.

The main focus of the protests will be a march and rally in London on Saturday organised by Protest the Pope campaign, a coalition of groups including human rights campaigners and secularists.

Asked on his flight about the protests, the pope told journalists that Britain had a "great history of anti-Catholicism", but also "a great history of tolerance".

Speaking in Dublin today, Archbishop Diarmuid Martin said he expected the papal visit to be a success. "People have a right to protest, people will protest and I think in general it will be respectful and dignified," he said.

Dr Martin said he understood why people are moving away from the Church. "What happened in the Church is something that one can not push away, justify or underestimate," he said. "I think a terrible situation emerged in the Church but we are moving forward. The pace isn't always as quick as I want it to be and the only way people will again have confidence in the church is if you win it."