One Man's Wrathful Vengeance

By Charles Isherwood
New York Times
September 16, 2010

http://theater.nytimes.com/2010/09/16/theater/reviews/16absolution.html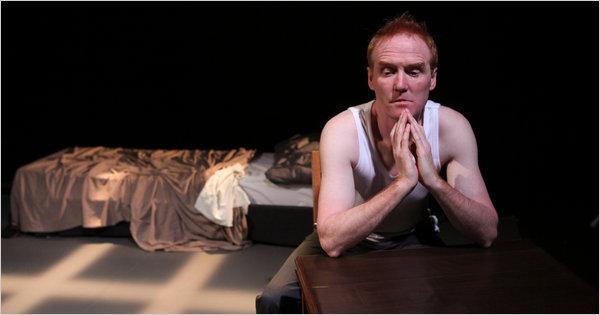 Owen O'Neill in his drama "Absolution," at 59E59 Theaters.



"When we were deep into the orchard, I threw McClennan on his back, ripped his trousers and shorts off, slit them with the knife," the man before us says without a flicker of emotion.

With this arresting opening image, the solo play "Absolution," at the 59E59 Theaters, establishes its grim, horrific tone. It's hard to imagine that the next words out of the narrator's mouth will be something like, "And then we had a spot of tea."

They are not. Within minutes the narrator has described, in gruesome detail and with clinical precision, committing a violent, sadistic murder. Within a few more minutes he has revealed the cause of the crime. The unfortunate McClennan was a Roman Catholic priest in an Irish village who sexually abused children.

Written and performed by Owen O'Neill, this show from the Gúna Nua Theater Company, presented as part of the First Irish Theater Festival, clocks in at a crisp 70 minutes. There is little variation from the basic formula: describe reprehensible crime, describe vengeful murder.

"Absolution," directed by Rachel O'Riordan, may remind viewers of the Showtime series "Dexter," the one about the serial killer who runs around killing other killers. Our narrator specializes in the stealth offing of an equally noxious breed, the pedophile priest.

"Absolution" is a less flashy entertainment, obviously. The narrator, who rises from a narrow iron bed to tell his tale, and occasionally moves to the sink in the room to wash his hands or face, appears to inhabit a prison cell. Lanky and spry, he sometimes flexes his muscles or engages in modest calisthenics as he relates his story. But mostly he simply lets it flow through him, betraying no emotion as he recounts the discovery of the crimes and the stalking of his victims.

He does dwell for a while on the suffering of young Nathan, McClennan's victim. In one of the play's few moving passages he describes a conspiracy of silence in Nathan's village. The boy's father had erupted in rage at his son when Nathan told him of the abuse, and threatened to put him in a home if he tattled. But somehow word leaks out, and such is the power of the church in town that the adults offer only covert sympathy. Nathan is given a few free sweets at the sweet shop, but no helping hand is offered, and no one dares to report McClennan to the authorities.

Mr. O'Neill's narrator also gives voice to the priests, whom he interrogates and admonishes before dispatching them. When he asks one offender why he beats the boys after sexually abusing them, the ugly answer is, "Because I think that some of them enjoy what I have done to them, and that's not good!"

Although it springs a few gasp-inducing twists in the final minutes, "Absolution" never really strays from the grim path it treads through sexual pathology and retribution. Even at just over an hour, the play seems a tough slog, little more than a chronicle of vice and vengeance that doesn't bring us any new insights into the horrors it recounts, the sufferings of the victims or the corrupt society that tolerates such abuse.

The writing, while effective, does not always avoid clichés. Describing a young woman he loved, the narrator recalls, "She always laughed at my jokes."

But Mr. O'Neill's performance holds the attention fast with its understated, almost offhand intensity. When hot emotion breaks through the icy facade at last, as the narrator recalls his lost love, you realize with a start how devoid of human feeling his chronicle has been. Equally chilling is his modest account of his own, um, achievements. "We've all got to start small," he says with a shrug.