Victim's Message to Pope: Our Souls Were Murdered

By Ian Johnston
MSNBC
September 16, 2010

http://www.msnbc.msn.com/id/39207699/ns/world_news-europe/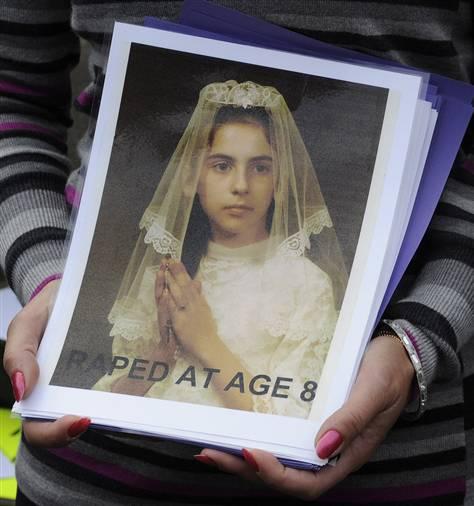 Chicago native Therese Albrecht holds a picture of herself aged eight during a protest in Edinburgh, Scotland.



LONDON — Wearing the dress she wore to her first communion and hands held together as if in prayer, the eight-year-old Therese Albrecht looks like a poster child for the Catholic Church.

The caption, which she added as an adult after years of depression, suicidal thoughts and psychiatric treatment, tells a different story: "Raped at age eight."

It is a striking image which Albrecht hopes will have made an impact on Pope Benedict XVI as he waved to thousands of well-wishers who lined the streets of Edinburgh, Scotland , on Thursday during the first papal state visit to the U.K. in nearly 500 years.

Albrecht traveled more than 3,700 miles from her home in Chicago with three other Americans — who all say they were abused by priests — to hold a silent demonstration. They allowed the childhood photographs of themselves and other victims to make their case.

Speaking from the Scottish capital's Princes Street as they waited for the pope to pass by, Albrecht told msnbc.com that she was sexually abused by a priest from the age of eight to 11 and also by a nun.

"I hope he takes notice of all the posters of all these innocent children in the prime of their youth ... basically their soul was murdered," she said. "Some of the posters of the children ... they committed suicide as adults. As someone who was suicidal herself, that touches me deeply."

While Benedict has apologized several times and acknowledged Thursday that the church had failed to act decisively to deal with pedophile priests, campaigners are urging him to take stronger steps.

Barbara Dorris, outreach director of the Survivors Network of those Abused by Priests (SNAP) victims' group, told msnbc.com that they wanted to see a publicly accessible, worldwide register of priests who were "credibly accused predators," so parents could find out if their children were at risk.

They also want the pope to hand over internal church documents about sex-abuse accusations to local police for investigation and bishops who were complicit in the "cover-up" of sexual abuse to be disciplined.

"I'm here today because I feel children are still being abused by the clergy," Dorris said. "I think I'm disappointed in him [the pope]. He is the spiritual leader of one of the world's largest religions, the safety of children should be, as the kids say, a 'no-brainer.'"

She said she felt "sad and frustrated" by the pope's response to the recent upsurge in accusations and evidence of abuse, saying despite his apologies and "lofty promises," he had actually done "nothing."

Dorris, 50, of St. Louis, Mo., said she was sexually abused by a priest from the age of six to 13. She said this "destroyed all my self-confidence" and she had suffered from depression and "horrible nightmares."

"I was never a child. I never did any of the normal things other children do," she said. "I spent my life trying to hide from that man, so he couldn't rape me."

Barbara Blaine, the president of SNAP, said the group had more than 10,000 members, mostly in the U.S. with some from other English-speaking countries. It has also been forming links with similar groups in Belgium and the Netherlands.

Speaking after the papal procession, Blaine said that the pope had looked towards them. However, she was unsure whether he had seen them or the pictures they were holding.

"He just kept a straight-face really," she said. "He kind of had a half-smile on his face as he looked in our direction. If he recognized any of us, if he was touched in any way, he didn't show it."

'Devastation'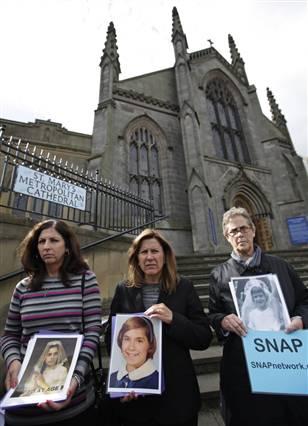 Therese Albrecht, Barbara Blaine and Barbara Dorris display photos of themselves as children outside a church in Edinburgh, Scotland.



Blaine said she was abused from the age of 12 or 13 until she was 17 by a priest.

"It's been horrible. It's taken me many, many years of therapy and hard work to overcome the devastation caused by the abuse," she added.

"I didn't get married until I was 45 years old. It happened during my development, it impacted on my self-esteem, my sense of who I am," she said, adding that this had been followed by depression and post-traumatic stress disorder. "I have overcome most of that, but it's been a very difficult journey."

Many clergy, Blaine felt, had remained silent out of fear for their position. "I think most priests fail to understand how their silence hurts the victims. I believe if they wanted, they could speak up and demand that the bishops who covered up these crimes should be punished ... and that the predator priests be kicked out."

Despite this, Blaine said that she still considered herself a Catholic, as did Albrecht and Dorris.

"I am a Catholic, but my faith is in God, not in those church officials who have covered this up," Blaine added. "When history looks back on this, it will be seen that we are actually providing a gift for the church.

"If we remain silent, then we think the abuse will continue and the evil will continue in the church. We are exposing evil ... helping to make the children safer. Many people view us as enemies of the church, but we are not enemies at all."