Pope Expresses Sorrow for "Unspeakable Crimes"

RTE News
September 18, 2010

http://www.rte.ie/news/2010/0918/pope.html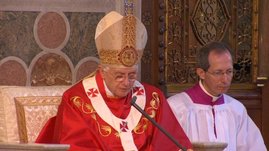 Pope Benedict XVI Strongly-worded statement



Pope Benedict XVI has expressed his 'deep sorrow' for what he described as the 'unspeakable crimes' committed by Catholic priests who sexually abused children.

In the most strongly-worded public statement on the subject during his state visit to Britain so far, the Pontiff spoke of the 'shame and humiliation' brought by the scandal.

Pope Benedict's comments came as he celebrated mass at Westminster Cathedral.

In his homily he told the congregation and the thousands of faithful gathered outside that he expressed his deep sorrow to the innocent victims of clerical sexual abuse.

He said to the congregation: 'I think of the immense suffering caused by the abuse of children, especially within the church and by her ministers.'

Speaking on his aircraft on the way to Britain, the Pope had acknowledged that the Church had failed to deal decisively enough with abusive priests.

However victim support groups said he failed to offer a wholesome apology.

This afternoon, the Pope spoke to and prayed with five abuse survivors in a private meeting in London.

Vatician Spokesperson Fr Frederico Lombardi said the meeting was emotional and profound.

This evening the Pope led a prayer vigil in London's Hyde Park in front of a crowd of 80,000 people.

The vigil was held on the eve of the beatification of Cardinal John Henry Newman.

Police see 'no credible threat' to Pope

The Pope's itinerary has not been affected by the arrests of six men on Friday in connection with reports of a threat to the Pontiff.

Five of the men are street cleaners. They are aged 26, 27, 36, 40 and 50 and understood to be of North African origin.

They work for Veolia Environmental Services, a contractor which employs 650 on-street staff to keep the streets of Westminster clean.

The BBC, quoting Scotland Yard source, is repotying that detectives have interviewed the men and believe there was 'no credible threat' to the Pope.

The men can be held until early tomorrow before police must apply for an extension.

Cameron to pay tribute to Pontiff

British Prime Minister David Cameron will tomorrow pay tribute to the Pope for challenging Britain to 'sit up and think'.

In a speech to mark the final day of the Pontiff's historic state visit, Mr Cameron will say that he had shown that faith was still 'a vital part' of Britain's national conversation'.

The Pope's message has, at times, been an uncomfortable one for British politicians, speaking out against what he called 'aggressive secularism' and warning against the 'marginalisation' of Christianity in modern Britain.

But speaking in Birmingham, the Prime Minister will tell Benedict XVI that he agrees with him about the importance of religious faith in public life.