Pope, at London Mass, Says "Deeply Ashamed" of Sex Abuse by Priests

Radio Free Europe
September 18, 2010

http://www.rferl.org/content/Pope_At_London_Mass_Says_Deeply_Ashamed_Of_Sex_Abuse_By_Priests/2161468.html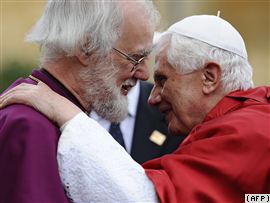 Britain's archbishop of Canterbury, Rowan Williams (left), greets Pope Benedict XVI at Lambeth Palace in central London



Pope Benedict has said he was deeply ashamed of what he called the "unspeakable" sexual abuse of children by Catholic priests.

Delivering Mass in London's Westminster Cathedral, the 83-year-old pontiff said he hoped the Roman Catholic Church would be able to purify itself of the "sins" of its priests, and renew its commitment to educating the young.

Benedict's remarks came on the third day of his trip to Britain, following a meeting with Prime Minister David Cameron and other senior politicians, and ahead of an open-air prayer vigil in London's Hyde Park that will be met by a public protest against the church's policies.

The events come one day after the arrest of six men suspected of plotting a terrorist attack tied to the pope's visit.

Vatican officials say the pope's schedule has not been affected by either the arrests or the planned protest.