Abuse Victim Responds to Pope's Apology

BBC News
September 18, 2010

http://www.bbc.co.uk/news/uk-northern-ireland-11357165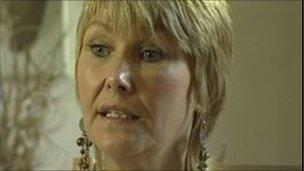 Margaret McGuckin was abused as a child in the Sisters of Nazareth orphanage in Belfast.



A victim of institutional abuse within the Catholic church said an apology by the Pope for the "unspeakable crimes" committed by Catholic priests who sexually abused children did not go "far enough".

The pontiff made his comments during a service at Westminster Cathedral on Saturday morning.

He said the scandal had brought "shame and humiliation" on the church.

Margaret McGuckin was abused in the Sisters of Nazareth orphanage.

She welcomed the Pope's comments but said they didn't go far enough.

"I feel hopeful, I feel he knows he's hearing the outcry of the people here," she said.

"He should have said about admitting the cover-up that they were responsible for and that it did go right up to the hierarchy.

"He should have come out and that would have made a perfect day for everyone, for all the victims.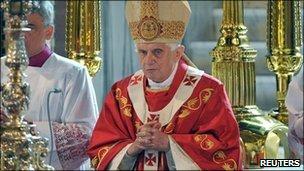 Pope Benedict made his comments during a service at Westminster Cathedral on Saturday morning.



"The ordinary people need led, they need strong leadership and it's up to him now to change it and to try his best to turn it all around, reach out to the people with love," she added.

Pope Benedict XVI made his comments on his third day of his state visit to Britain.

It is his strongest public apology yet over the scandal.

He also acknowledged "the shame and humiliation" caused by "these sins".

Speaking to hundreds of members of the Catholic Church, including senior clergy, the Pope said he was gravely concerned by "the immense suffering" caused by the abuse, especially by Church ministers.

"Above all, I express my deep sorrow to the innocent victims of these unspeakable crimes, along with my hope that the power of Christ's grace, his sacrifice of reconciliation, will bring deep healing and peace to their lives," he said.

Later it was confirmed that the Pope had held a private 30-minute meeting in the Westminster area with five abuse survivors, three of whom were from Yorkshire, one from London and another from Scotland.

One of the victims is understood to have suffered the abuse in an Irish institution.

The Vatican said the Pope had expressed his "deep sorrow and shame" to all five.

Bill Kilgallon, chairman of the National Catholic Safeguarding Commission, said he spoke to the abuse survivors beforehand and they were "understandably quite emotional".

"I would not say they were angry but I think there's anger in them," he said.

"I think that's a really positive thing because what happened was a real betrayal of trust."