My Shame and Humiliation: Pope's Emotional Apology over 'Unspeakable' Child Abuse As He Meets Five British Victims

Daily Mail
September 19, 2010

http://www.dailymail.co.uk/news/article-1313317/POPES-UK-VIST-My-shame-humiliation--Popes-emotional-apology-unspeakable-child-abuse-meets-British-victims.html?ito=feeds-newsxml

Pope Benedict XVI yesterday issued his strongest apology yet for child abuse by the clergy, denouncing it as an 'unspeakable crime'.

In a sermon at Westminster Cathedral, the Pope expressed his 'deep sorrow' to victims of sexual abuse by priests, and said the scandal had shamed him and the Church.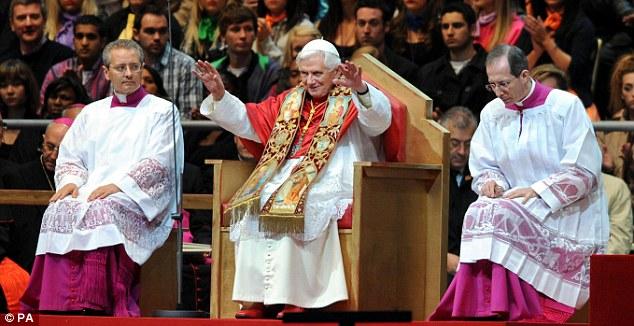 Pope Benedict XVI leads a Prayer Vigil in London's Hyde Park yesterday. Earlier he expressed his 'deep sorrow' to victims of sexual abuse by priests, and said the scandal had shamed him and the Church



'I think of the immense suffering caused by the abuse of children, especially within the Church and by her ministers,' he told the congregation.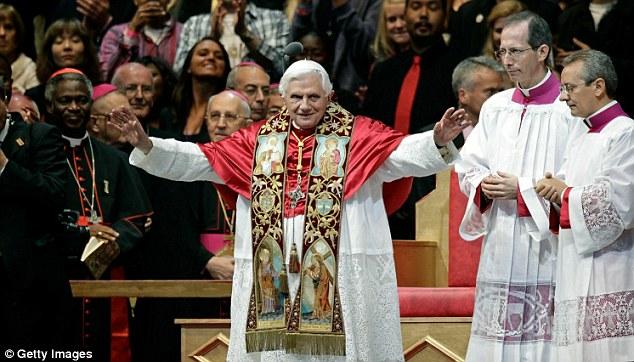 Pope Benedict XVI leads a prayer vigil in front of thousands of pilgrims in Hyde Park today



'Above all, I express my deep sorrow to the innocent victims of these unspeakable crimes, along with my hope that the power of Christ's grace, his sacrifice of reconciliation, will bring deep healing and peace to their lives.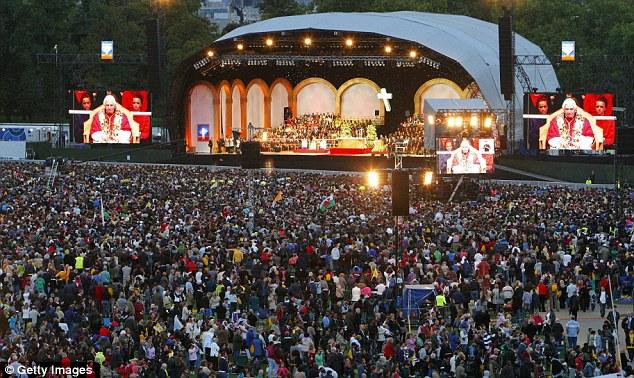 Tens of thousands of people turned up in London's Hyde Park last night to hear the Pope



'I also acknowledge with you the shame and humiliation which all of us have suffered because of these sins.'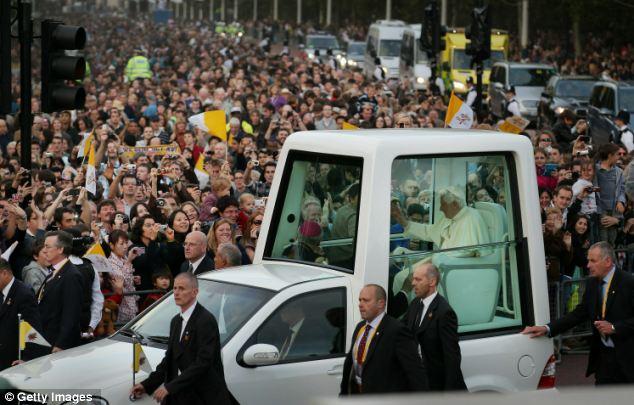 Celebration: Thousands look on as Pope Benedict travels along the Mall in his popemobile to attend a prayer vigil in Hyde Park



The apology comes after his acknowledgement at the start of his historic state visit to Britain that the Catholic Church had failed to deal with abusive priests decisively or quickly enough.


In a further move to defuse the controversy, the Pope held a secret meeting with five victims of child abuse yesterday: three from Yorkshire, one from London and one from Scotland.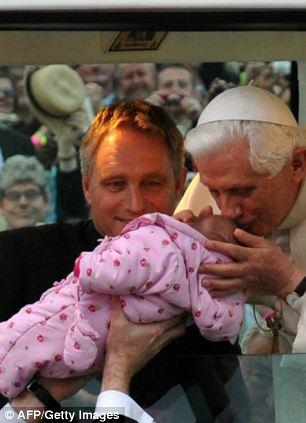 Pope Benedict XVI kisses a baby as he arrives to hold a Prayer Vigil on the Eve of the Beatification of Cardinal John Henry Newman in Hyde Park yesterday



At the Central London meeting, which lasted about 30 minutes, the Pope again expressed his 'sorrow and shame'.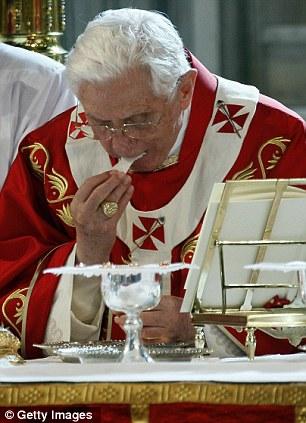 Solemn occasion: Pope Benedict XVI conducts Mass in Westminster Cathedral yesterday



In a statement, the Vatican said: 'He was moved by what they had to say and expressed his deep sorrow and shame over what victims and their families had suffered.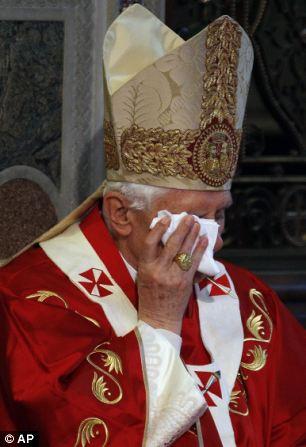 Pope Benedict XVI wipes his face as he conducts Mass in Westminster Cathedral yesterday. The Pope said he was ashamed of the 'unspeakable' sexual abuse of children by priests



'He prayed with them and assured them that the Catholic Church is continuing to implement effective measures designed to safeguard young people, and that it is doing all in its power to investigate allegations, to collaborate with civil authorities and to bring to justice clergy accused of these egregious crimes.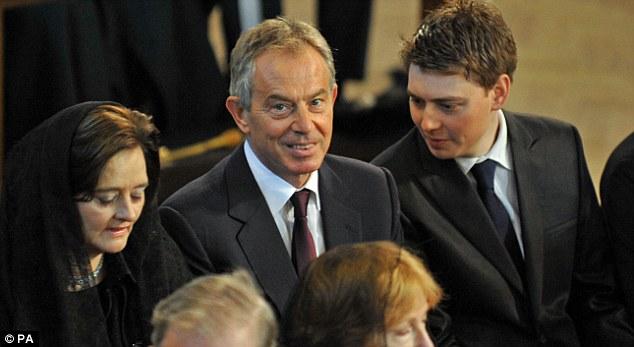 Former British Prime Minister Tony Blair (centre), wife Cherie and son Nicholas during a Mass presided over by Pope Benedict XVI at Westminster Cathedral



'As he has done on other occasions, he prayed that all the victims of abuse might experience healing and reconciliation, and be able to overcome their past and present distress with serenity and hope for the future.'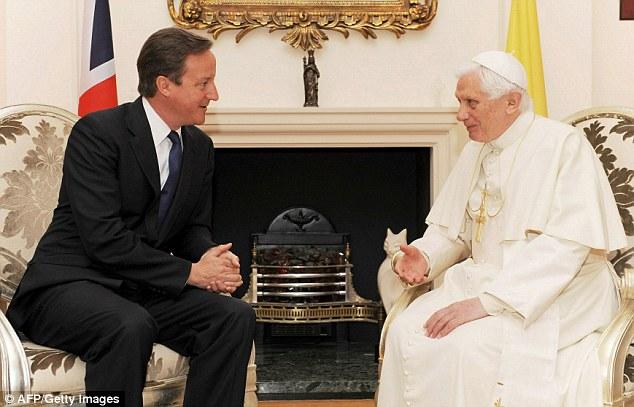 One on one: Pope Benedict XVI meets with David Cameron at Archbishop's House in central London



However, the Pope's words and actions failed to quell the anger of thousands of demonstrators who joined a Protest The Pope march through Central London yesterday.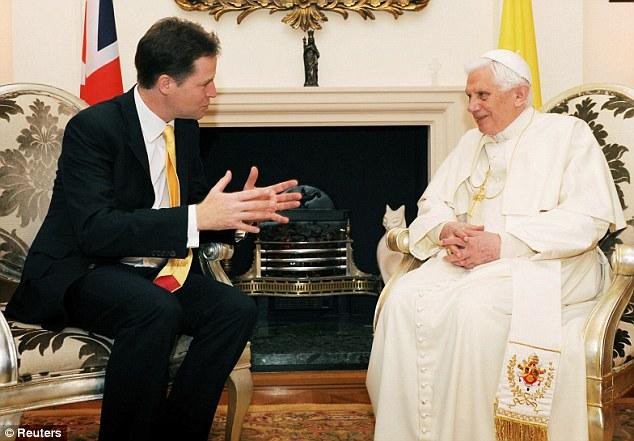 Talks: Deputy Prime Minister Nick Clegg took his two children along to the meeting with Pope Benedict XVI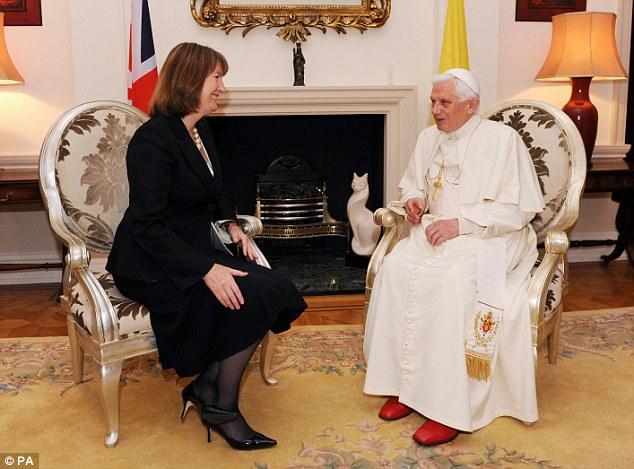 Acting Labour leader Harriet Harman said she spoke to the Pope about the struggles for social injustice



Sue Cox, who was molested by a priest 50 years ago, told protesters before they set off from Hyde Park to Downing Street that the Pope's visit was 'egotistical, arrogant and selfish'.

Ms Cox, 63, from Gaydon, Warwickshire, said her experience of the Church was 'pain, anger, fear, terror, disgust, lies, shame, violence, sneering, disdain and disempowerment'.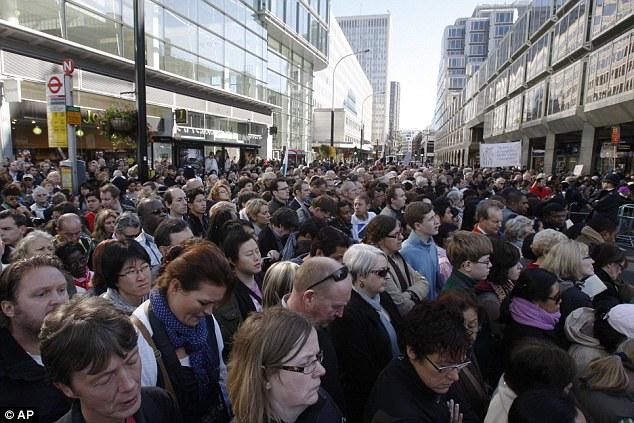 Teeming: Thousands of people line the streets of central London to listen to the Mass service



The Pope's Westminster Cathedral sermon was delivered to a congregation that included former Prime Minister Tony Blair, his wife Cherie who wore a traditional black mantilla, or headscarf, and their children Euan, Nicholas, Leo and Kathryn.

The Pope had earlier held his first meeting with Prime Minister David Cameron, who missed the Westminster Hall event because of his father's funeral.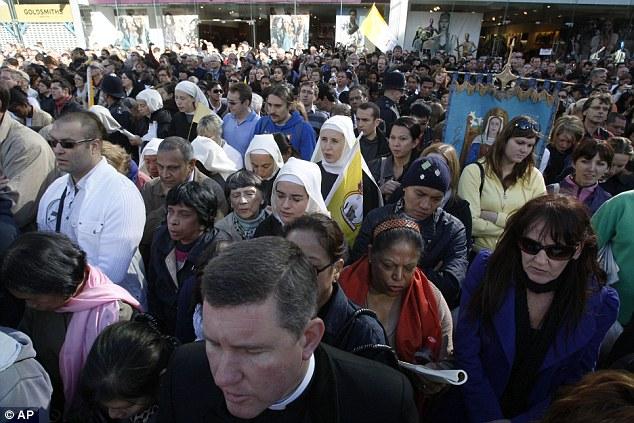 Prayers: The service was broadcast over loud speakers to the thousands unable to get into the cathedral



The Prime Minister gave the Pope a first-edition copy of Cardinal Newman's Apologia from 1864. Deputy Prime Minister Nick Clegg, a non-believer, and acting Labour leader Harriet Harman also met the Pope and gave him candlestick holders – one from the House of Commons and one from the Lords.

Both Mr Clegg and Ms Harman received papal medals.

Ms Harman said afterwards: 'I was very pleased to express the welcome to the Pope on his visit to this country on behalf of the Labour party.

'We talked about the many struggles for social justice that Catholics and the Labour party have struggled on together.'