Pope Benedict XVI Needs to 'Listen Not Lecture,' Says British Think-Tank during Pope's Visit to London

By Dan Wooding
Christian News Today
September 18, 2010

http://www.christiannewstoday.com/Christian_News_Report_241.html

LONDON, UK -- "Public gaffes" made by Pope Benedict XVI and his retired senior adviser Cardinal Kasper, in aligning atheism with Nazism and describing Britain's social mix as being "like a Third World country," show that the Roman Catholic Church needs to re-learn how to communicate by listening not lecturing, says the UK-based religion and society think-tank, Ekklesia.

The strongly-worded comments were made during the second day of the Pope's four-day visit to the United Kingdom.



"The pontiff has misjudged his wider audience by pandering to exaggerated fears of antagonism to religion, rather than building bridges of understanding and cooperation between the peacemaking and justice-loving heart of Christianity and those of other or no faith committed to doing good in a plural society," said Ekklesia's Simon Barrow in a statement sent to the ASSIST News Service.



"It is not clear what the pontiff means by 'aggressive secularism.' This makes discussion difficult. The equality legislation he criticizes is backed by many believers and invites the church to practice what it preaches about non-discriminating love of neighbor. As for cases of alleged discrimination against Christians, the overwhelming majority of these have been found to hold no water."



He continued: "Many people are not so much hostile to religion as baffled or indifferent. Overall, the Pope has been greeted with warmth in spite of widespread concern about sex abuse and skepticism over his negative message about family planning and the place of women. in church and society. These issues need to be addressed through open dialogue not closed pronouncements. Making the faithful more fearful will not resolve the challenges we face together in a complex, plural society.



"The heart of the matter is that the Christendom model of the church as a top-down alliance of throne and altar is dying - as many Christians, including Catholics, have been saying. This is why there is controversy surrounding the city state status of the Vatican. Hierarchical institutions cemented by the temporal power sit in direct tension with social equality, enemy-loving, learning by example, and concern for the most marginalized, as exemplified by Jesus and his earliest followers.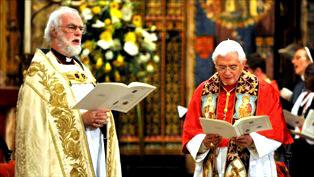 The Archbishop of Canterbury and the Pope sing during Westminster Abbey service



"It is this spirit and these lived values which have to be re-learned and re-expressed in an era where the church needs to gain a hearing through honest persuasion rather than unaccountable privilege," concluded the Ekklesia co-director.



Pope's speech in Westminster Hall, London

During Pope Benedict's second day of his state visit to Britain, he claimed that religion is "marginalized" during his speech in Westminster Hall. The Pope also warned that religion - and Christianity in particular - is "being marginalized" around the world.



A BBC report said that his comments came in his keynote speech to UK MPs, senior members of British society, and religious leaders at Westminster Hall in central London.



Pope Benedict XVI warned that there were some people who wanted to see "the voice of religion be silenced."



In his speech at the historic Westminster Hall, the Pope called on those in attendance to seek ways to promote faith "at every level of national life."



He added: "I cannot but voice my concern at the increasing marginalization of religion, particularly of Christianity, that is taking place in some quarters, even in nations which place a great emphasis on tolerance. There are those who would advocate that the voice of religion be silenced, or at least relegated to the purely private sphere. There are those who argue that the public celebration of festivals such as Christmas should be discouraged, in the questionable belief that it might some how offend those of other religions or none."



BBC correspondent Peter Hunt described the speech at Westminster Hall as "a rallying call, and a plea - for religion not to be squeezed out by secular society."



Counter terrorism arrests

As the Pope was speaking, a sixth man was arrested as counter-terrorism detectives investigated an alleged threat to his visit. Five of the men were arrested by officers from the Metropolitan Police Service Counter Terrorism Command under the Terrorism Act 2000 at a business premises in central London at around 5.45 a.m. local time. They were only identified as men aged 26, 27, 36, 40 and 50.

Media reports stated that [New] Scotland Yard said the men were taken to a central London police station where they are being interviewed by detectives. Additionally, searches were being carried out at two business premises in central London, as well as at eight residential premises in north and east London.



Later today (Friday,) at approximately 1.45 p.m. local time, a sixth man was taken into custody at a residential premises in north London. "He has been taken to a central London police station where he will be interviewed by detectives," a police spokesman said.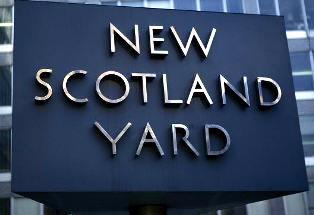 Sign outside New Scotland Yard





Police said initial searches have not uncovered any hazardous items, but authorities refused to release information about the potential threat. "We can't go into specifics at this time," a police spokesman said when asked if the threat was related to the visit of the Pope.



A statement from Scotland Yard, however, said it reviewed "policing arrangements for the Pope's visit in response to the potential threat. "We are satisfied that our current policing plan remains appropriate," the statement said.



Benedict also attended a service at Westminster Abbey, asking Christians to speak out about their faith. At the service celebrated jointly with the Archbishop of Canterbury, Dr Rowan Williams, the Pope said: "in a society which has become increasingly indifferent or even hostile to the Christian message", believers were "all the more compelled to give a joyful and convincing account" of their faith.



He also shook incense over the tomb of Edward the Confessor - regarded as a saint by both Churches.

"Deep friendship"

Earlier, the Pope met with Dr Williams at Lambeth Palace - a meeting attended by Anglican and Roman Catholic bishops from different parts of the UK.

But the Pope said he wanted to focus on the "deep friendship" between the two churches rather than their differences. The Lambeth Palace meeting marked the first time a Pope has met the Archbishop at his official residence.



It was viewed as an important event more than 40 years after official talks began about possible reunification of the two churches.



"Dr Williams said in his opening remarks that the Pope was "most welcome" at Lambeth Palace. He then praised the pontiff's "consistent and penetrating analysis of the state of European society."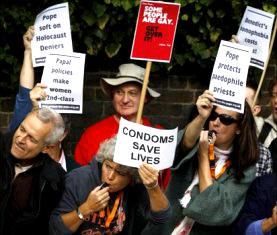 Papal protestors have their say in London



Earlier, the Pope led an assembly of 4,000 Catholic school children in west London.



"He used his address at St Mary's University College in Twickenham, to say that the safety of children was vital in all schools, an apparent reference to the Church's child abuse scandal," said the BBC. "He also warned against the limitations of celebrity and science. The pontiff told the crowd young people were often encouraged to model themselves on celebrities."



He said: "My question for you is this: 'What are the qualities you see in others that you would most like to have yourselves? What kind of person would you really like to be?'" adding, "I'm asking you not to be content with second-best."



He went on to say having money or a successful career was not enough to make people happy, but true happiness could be found in God.



Tomorrow (Saturday, September 18, 2010), the Pope will celebrate Mass at Westminster Cathedral and then hold an open-air vigil in Hyde Park.



The following day (Sunday), he travels to Birmingham, in the English Midlands, to celebrate Mass and Beatify Cardinal John Henry Newman at Cofton Park, and then he meets with bishops of England, Scotland and Wales before returning to Rome.