Reform Group Protests over BBC Report

Independent Catholic News
September 19, 2010

http://www.indcatholicnews.com/news.php?viewStory=16755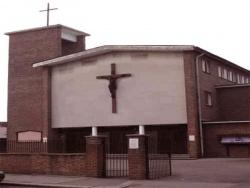 St John Vianney's, West Green, London



Last Sunday the BBC carried a report filmed in a north London church during and after Mass, in which a woman (ostensibly a parishioner) claiming to come from campaigning group Catholic Voices for Reform, was interviewed discussing a number of church issues. The group has issued the following letter of complaint.

Catholic Voices for Reform have been considerably dismayed to see their name linked to events that took place at St John Vianney's parish, South Tottenham, London last Sunday both during and after the Mass.

Penelope Middelboe assures us that she made it clear to the BBC that she was representing Catholic Women's Ordination, although on occasion she also speaks for Catholic Voices for Reform. She believed that the parish had been fully informed of what was to take place and agreed with the arrangements. Because of this assurance she agreed to participate as required by the BBC's Robert Pigott.

The Co-ordinators of Catholic Voices for Reform believe it absolutely essential to respect the Mass and the community gathered to celebrate it. While they might be filmed outside a Church or inside at the express invitation of the Parish Priest, they would totally reject any disruption of the sacred liturgy. The parishioners of St John Vianney's parish appear to have been used, without being given an opportunity to express their own views, and this cannot be condoned.

Ms Middelboe has written the following letter of explanation to the parish and given permission for it to be published.

Dear St John Vianney Parish,

Catholic Voices for Reform have asked me to explain how filming came about for last Sunday's item on the BBC News.

I had been assured that the BBC had permission to film me in this way - both inside the church of St John Vianney, and a piece to camera outside in response to the BBC's poll of 500 Catholics released that morning.

As a passionate Catholic I enjoyed attending the Mass and was sad to leave early, but I had a Baptism in Essex to get to (which I had made clear to the BBC from the very beginning). I appreciated the welcome you gave me during my short time with you and found you a vibrant and enthusiastic congregation. It's a shame I don't live in North London.

I am a member of Catholic Women's Ordination (CWO) and I said that on camera at the start of my interview outside. Catholic Voices for Reform is an ad-hoc group working to raise the profile of different organisations seeking dialogue throughout the Church over matters which affect the community of faith.