Belgian Church Fears Us-Style Paedophile Lawsuit Bill

The Expatica
September 19, 2010

http://www.expatica.com/be/news/news_focus/Belgian-Church-fears-USstyle-paedophile-lawsuit-bill_96435.html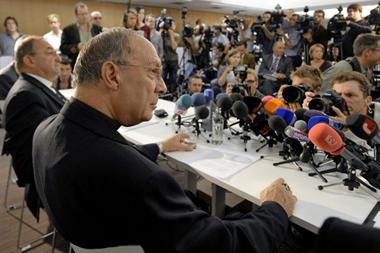 Belgium, Brussels : Archbishop Andre-Joseph Leonard (Foreground) listens to questions during a press conference in Brussels on 13 September 2010



Belgium's Catholic Church fears a raft of US-style costly settlement claims after an unprecedented paedophile priest scandal, according to a leading bishop.

Brussels - A Church-backed commission last week revealed hundreds of abuse cases and 13 suicides linked to the decades-long scandal, identifying 91 accused priests who are still alive.

However, the Church itself vowed only to learn from the "errors of the past" by listening to the victims of predator priests.

While a police investigation has been slowed by court decisions to throw out evidence collected during controversial raids on Church property, the bishop said Church leaders feared costly demands for huge settlements.

"If we recognise our responsibility, even if we were not at our posts at the time of the facts, we fear demands for massive indemnisations," said the bishop of Tournai, Guy Harpigny, an influential voice in the abuse scandal.

The Belgian Church has reason for concern: dioceses in the United States were driven to bankruptcy by million-dollar settlements for victims of sexually abusive priests.

Harpigny said he would ask fellow bishops to "draft a list of accused priests and encourage them to ask for a canonical trial," where the highest penalty is losing priesthood.

The head of Belgium's Catholics, Archbishop Andre-Joseph Leonard, unveiled on Monday plans to open by Christmas a centre for "recognition, reconciliation and healing" for victims, but the project failed to impress victims' groups.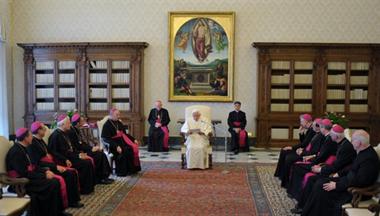 Vatican City State, Vatican City : This handout picture released by The Vatican press office shows Pope Benedict XVI (C) meeting with Belgium's chief Catholic cleric Archbishop Andre-Joseph Leonard (C-L) and Belgian bishops at The Vatican after their Ad Limina vist



The Church also faces the wrath of Belgian politicians with the parliament's justice committee debating the matter on Friday after Socialists accused religious authorities of trying to "privatise justice." Some are calling for a parliamentary inquiry.

Calls have grown also for the Church to defrock the former bishop of Bruges, Roger Vangheluwe, whose admission in April that he sexually abused his nephew between 1973 and 1986 sparked the scandal.

Vangheluwe quit his post but it is up to the pope to throw him out of the Church altogether, a decision that could come sooner rather than later, according to Belgian bishops.

The Vatican said Pope Benedict XVI was following developments in Belgium "very closely" and felt "much pain" following the new revelations of priest paedophilia.

The September 10 report found hundreds of abuse cases between the 1950s and 1980s and highlighted the passivity of the Church hierarchy, which has rejected accusations of any cover-up.

"This is only the beginning," said Gabriel Ringlet, a priest and writer considered an influential and progressive voice in the Belgian Catholic Church.

"Breaking the culture of silence that reigned over decades is a bit like leaving a sect," he said.

Riglet criticised the lifestyle of clergymen, which he found "too isolated, and which can lead to sexual immaturity."

He suggested that a grassroots movement could pressure the Church to review its rules on priestly celibacy, although the conservative core would counter such a move.

Archbishop Leonard, denying charges of "dysfunction" in the Church, has already swept aside any calls to examine celibacy.