Bishop Lennon on Church Closings

WTAM
September 19, 2010

http://www.wtam.com/cc-common/news/sections/newsarticle.html?feed=122520&article=7613668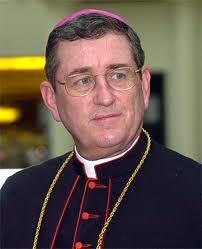 Bishop Richard Lennon



Catholic leader talks exclusively with Newsradio WTAM 1100.

By Colleen O"Neill & Ken Robinson, Newsradio WTAM 1100

Sunday, September 19, 2010

(Cleveland) - Will the church closings hurt the 2010 Annual Appeal of Catholic Charities?

Not so far, says Bishop Richard Lennon, who reports that donations are running $150,000 ahead of last year.

Lennon feels Greater Clevelanders know of the fine work Catholic Charities is doing and how many people are being helped.

Lennon says many don't understand why some churches were closed. He contends it wasn't done to shut down poor parishes, but to spread diocese resources more equally.

Lennon reveals that he hasn't talked to members of the closed St. Peter's Church, who continue to meet in a private building on Cleveland's east side. He wants to talk to the priest there first.

Lennon admits that the Mass being conducted by the priest is still a valid Mass, but believes the action is inappropriate.