Vatican Bank Chief Investigated over Money Laundering Claims

By John Hooper
The Guardian
September 21, 2010

http://www.guardian.co.uk/world/2010/sep/21/vatican-bank-chief-investigated-laundering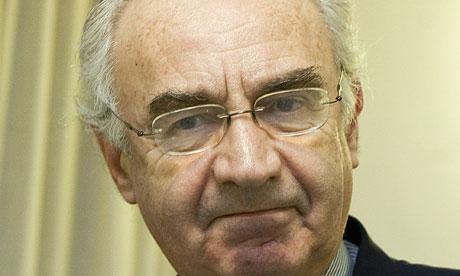 Under investigation: Ettore Gotti Tedeschi, president of the Istituto per le Opere di Religione (IOR).



The head of the Vatican bank has formally been placed under investigation in an inquiry into a suspected violation of Italy's money-laundering laws, judicial sources said today.

At the same time, a judge in Rome ordered a freeze on €23m (£19.5m) held in an account opened by the Vatican bank, the Institute for the Works of Religion (IOR), at another financial institution in the Italian capital. It was thought to be the first time such action had been authorised against the IOR in Italy.

Since last September, the Bank of Italy has classified the Vatican bank as a non-EU institution whose dealings with other banks are thus subject to especially close scrutiny.

The sources said that last Wednesday, on the eve of Pope Benedict's departure for Britain, a unit of the Italian revenue guard alerted prosecutors to an anomaly in an account owned by the IOR at the Rome branch of Credito Artigiano, which has close historic ties to the Catholic church.

Of the €28m deposited, €23m was destined for transfer to JP Morgan in Frankfurt and another €3m to another Italian bank. But in neither case, it is alleged, had the Vatican's bankers supplied details of the individual or corporation for whom they were acting, as required by a 2007 legislative decree.

The sources said the president of the IOR, Ettore Gotti Tedeschi, and another senior executive were under investigation. It was not immediately clear whether there was any connection between this inquiry and another in which the Vatican bank has been named, which concerns suspect property dealings.

The Vatican has a long history of withholding co-operation from Italian investigators seeking access to its bank's books. The IOR was involved in a major scandal in 1982 arising from the fraudulent bankruptcy of Banco Ambrosiano, then Italy's largest private bank.