Vatican Bank Chairman under Investigation for Money Laundering

By Joe Palazzolo
Wall Street Journal
September 21, 2010

http://blogs.wsj.com/corruption-currents/2010/09/21/vatican-bank-chairman-under-investigation-for-money-laundering/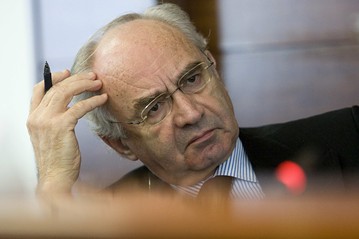 Gotti Tedeschi has been placed under investigation by Rome magistrates for suspected money-laundering by the bank, Ansa news agency reported.



The chairman of the Vatican Bank is under investigation for possible money laundering violations, and Italian police have seized EUR23 million in deposits as a precautionary measure, Ansa news agency reported Tuesday.

The wire service, citing unnamed police, said authorities are looking at whether Ettore Gotti Tedeschi broke a 2007 law regarding the disclosure of account holder identities. Paolo Cipriani, director general of Istituto per le Opere di Religione, as the bank is formally known, is also under investigation.

The Vatican said in a statement that it was "perplexed and astonished" after the EUR23 million was impounded, AFP reported.

The Holy see pledged its commitment to financial transparency and expressed "maximum confidence" in Tedeschi, a former official of Spanish banking giant Santander whose 2009 appointment was seen as a move towards greater transparency at the IOR.

The EUR23 million ($30 million) is held in the Vatican Bank's account at the Credito Artigiano SpA, a private bank that is part of the Credito Valtellinese group.

On Sept. 15, The Bank of Italy's financial intelligence unit suspended two transactions ordered by the IOR from its account with Credito Artigiano because they were deemed suspicious, according to Ansa.

The transactions concerned EUR20 million sent to the German bank J.P.Morgan Frankfurt, and EUR3 million sent to a central-Italian bank, Banca del Fucino, the news agency reported.

The IOR is considered a non-European Union bank and enjoys Vatican offshore status. The bank manages accounts for religious orders and Catholic associations.

It had been previously reported that investigators were probing one or more accounts the Vatican Bank opened with Unicredit, Italy's biggest bank.