Former Seminary Principal Gets Prison for Sexually Abusing Teen

By Janice Peterson
Daily Herald
September 21, 2010

http://www.heraldextra.com/news/local/article_efb496d4-b079-5c24-bb19-21713611c03b.html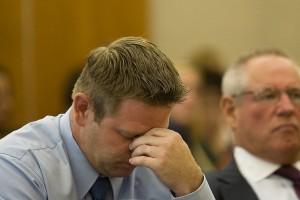 Michael Pratt reacts while listening to remarks made by the victim Monday, Sept. 20, 2010, at the Fourth District Court in American Fork. Pratt was sentenced to 5 to life in prison.



AMERICAN FORK -- Former Lone Peak High School seminary principal Michael Pratt, 38, was sentenced to up to life in prison Monday for having a sexual relationship with a 16-year-old student.

American Fork 4th District Judge Christine Johnson handed down a sentence of five years to life for each of Pratt's first-degree felonies, including one charge of forcible sodomy and two charges of object rape. She also sentenced him to up to 15 years in prison for his second-degree felony conviction of forcible sexual abuse.

"In the end, it's my conclusion that I cannot justify ordering probation in this case," she said.

The victim in the case, now 18, addressed Pratt and the judge before the sentence was handed down, saying she has chosen to move forward with her life, with or without an apology from Pratt. She told him he will never heal or move on until he faces reality, and urged him to accept responsibility for his actions.

"Stop for a minute," she said. "Recognize the extent of the damage that you have caused."

The teen said Pratt told her if he was ever caught, he would go to prison. He would lose his family, his job and his church, he told her, but he still chose to continue.

"You sold out, knowing the price," she said.

The girl said she is disappointed that she was blinded by Pratt. He lowered her standards and gave her empty promises and lies, she said. Though the relationship was real to her, she said, it was never real to him.

"I am no longer blinded by your craftiness," she said. "My eyes are wide open. I am no longer your puppet, your toy or your game."

The teen said she also has accountability in the situation, but that accountability is between her and God.

Pratt pleaded guilty in June as a result of a plea agreement. He was originally charged with 21 felonies, though six were dismissed at a preliminary hearing and an additional 11 charges were dismissed as part of the plea agreement.

Until his arrest in July 2009, Pratt was principal of the Lone Peak High School LDS seminary, where the girl was a student. LDS Church spokeswoman Kim Farah said Pratt was terminated after the allegations surfaced.

Pratt also addressed the court Monday, saying he has accepted responsibility. He said he acknowledged when he pleaded guilty that what he did was wrong.

"I'd like to make it clear that I don't pretend to be a hero," he said. "I don't pretend to be innocent. I don't pretend to be a great man, or the one who saves all these kids."

Pratt said he takes full ownership, and he is the one who made the wrong decisions. He apologized to the teen and her family as well as to his own family. He said he hopes those he has hurt will find healing and peace.

"I am prepared to pay whatever price," he said.

Pratt's attorney, Stephen McCaughey, asked the judge for jail time and probation, saying the pre-sentencing investigation found him to be a low risk to re-offend. He said a prison sentence of five years to life will most likely equate to about six years for someone like Pratt.

McCaughey said Pratt has already been punished for his crimes, with a damaged reputation, loss of membership in his church and the requirement to be on the sex offender registry for life. He said Pratt also lost his job, and his wife will have to provide for the family's four children, including a 2-month-old baby.

"We would submit that an appropriate sentence in this case is to give him two years in the county jail, followed by a lengthy probation," he said.

Several of the teen's family members also addressed the court, asking the judge not to just send Pratt to jail. They asked her to send a message to the victim and to society that such actions are not acceptable and will be punished. They said many have blamed the teen for what happened, and she has received messages on her Facebook account calling her crude names and a "Jezebel."

During the nearly three-hour sentencing hearing, the teen's parents and aunts detailed how the troubled and confused teen sought counseling from Pratt, a well-liked seminary principal. They said they saw positive changes in their daughter, and she seemed happy again when she began seeing Pratt in early 2009. The girl's mother read aloud an e-mail she sent to Pratt in March 2009, thanking him for working with their daughter. She called him an answer to their prayers, and thanked him for the hours he spent with the girl, even on weekends, sending her text messages to make sure she was on the "straight and narrow."

"You have truly saved her life," the woman wrote in the e-mail.

However, the woman said she soon became concerned with how close her daughter was to Pratt. She asked Pratt to remember the events that occurred when he took the girl to an abandoned house in the neighborhood and an abandoned mine in Eureka.

"Can you even begin to imagine that happening to your very own daughter, Michael Pratt?" she asked.

Despite warnings from the girl's family for Pratt to never speak with their daughter again, the relationship continued, until the family went to Pratt's boss, and police were notified.

The teen's father said the relationship was not a one-time mistake, but 21 separate incidents. He said though his daughter knew what was going on was wrong, she said Pratt made her believe it was right.

Though people in the community have blamed his daughter and scorned her, the man said, many have also supported her. He said she has worked hard to be the victor, not the victim.

"We are extremely proud of her," he said.

Outside of court, the man said he feels justice was served with the prison sentence. However, he said it was also a difficult day.

"Today is a tragic day," he said. "It's a tragic day for everybody."