Belgian Bishops Question Whether Priests Need Be Celibate

By Bruno Waterfield
The Telegraph
September 21, 2010

http://www.telegraph.co.uk/news/worldnews/europe/belgium/8015571/Belgian-bishops-question-whether-priests-need-be-celibate.html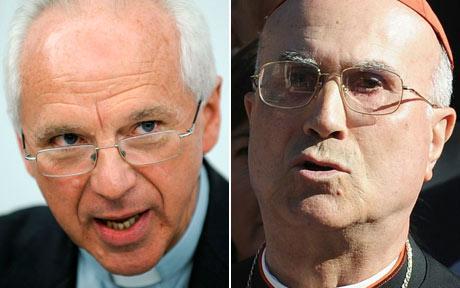 The Bishop of Bruge, Jozef De Kesel (left) and Cardinal Tarcisio Bertone, the Vatican's Secretary of State



Two of the most senior bishops in Belgium are challenging the doctrine that priests must be celibate in response to the recent uncovering of child sex abuse in every congregation across the country.

The bishop of Bruges, whose predecessor Roger Vangheluwe triggered a major crisis in Belgium in April after admitting to sexually abusing his nephew, has challenged the ancient Catholic tradition that priests should not marry.

"I think the Church must ask itself the question of whether it is appropriate to keep the mandatory character of celibacy," said Bishop Jozef de Kesel on Tuesday. "We could say that there are celibate priests, but that people for whom celibacy is humanly impossible should also have the chance of becoming priests."

The Vatican has resolutely denied that there is any link between celibacy and the wave of child sex abuse allegations that has engulfed Roman Catholic Churches across Europe and the United States.

Patrick Hoogmartens, the Bishop of Hasselt, also strayed from the official line with an attack on the "useless" doctrine of celibacy.

Belgian Roman Catholics have been struggling to come to terms with a Sep 6 report which uncovered 475 cases of sex abuse committed by at least 91 priests in every one of the country's churches. "I don't think it would be stupid for married men to also become priests," Bishop Hoogmartens said, citing the positive role played by married deacons who are assistants during the Catholic mass.

Cardinal Tarcisio Bertone, the Vatican's Secretary of State, sparked outrage in April when he argued that there was no relationship between celibacy and child sex abuse but that there was "a link between homosexuality and paedophilia".

Public opinion polls show that 73 per cent of Belgian Catholics support marriage for priests. But ending celibacy has been ruled out by Archbishop Andre-Joseph Leonard, the conservative head of the Belgian church. "If you were to reason that way, you could conclude that marriage should be banned because the majority of sex abuse cases occur within family settings," he said earlier this month, dismissing the link between paedophile priests and celibacy.

Controversy over the Belgian Church's failure to punish child sex abuse offenders was fuelled at the weekend when Jean-Marie Dedecker, a senior Flemish liberal MP, called for self-confessed paedophile Bishop Vangheluwe to be jailed.

"As a notorious paedophile Vangheluwe should be detained immediately, put into a prison cell and castrated," he said.