Sex Claim against Mate Stuns Bishop Tamaki

By James Ihaka
New Zealand Herald
September 22, 2010

http://www.nzherald.co.nz/nz/news/article.cfm?c_id=1&objectid=10675956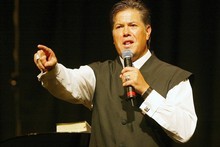 Brian Tamaki. File photo / Martin Sykes



Destiny Church leader Brian Tamaki says he is shocked by allegations that his "spiritual father", Eddie Long, had used one of his ministries to coerce teenage boys into sex.

But he is reserving any judgment against his friend for now.

Bishop Long, the leader of the mega-sized New Birth Missionary Baptist Church in the US and a staunch opponent of gay marriage, is facing lawsuits from three men who say they were forced into sexual liaisons with him as teenagers.

They were previously members of one of the church's ministries, a mentoring programme for boys aged 13 to 18.

Among their allegations are claims of cash gifts, cars, travel and money for college tuition from the bishop in exchange for sexual favours.

Yesterday, Bishop Tamaki told the Weekend Herald in an email that he had received a text message from Bishop Long this week telling him of the developments in Atlanta.

Bishop Tamaki said the news floored him. He knew "absolutely nothing" of the situation or any of the circumstances surrounding the allegations made against his friend.

"Like many people I was shocked and surprised at the reports."

CNN reported that one plaintiff, 20-year-old Maurice Murray Robinson, accompanied Bishop Long to Auckland for his 18th birthday in October 2008.

He alleges that while in Auckland, Bishop Long had oral sex with him and after his trip to New Zealand the pair regularly engaged in sexual touching "and other sexual acts".

Bishop Tamaki said he did not meet Mr Robinson during their visit.

"I may have had a formal introduction to him as part of meeting Bishop Long's team but did not personally meet him."

He referred to Bishop Long as his "spiritual father" when he recognised his "outstanding leadership" several years ago.

He and Bishop Long had "connected accordingly" and they usually met each year at church conferences.

"He is held in very high regard by political and religious leaders and has contributed greatly towards the needs of his local community and church membership," said Bishop Tamaki.

CNN said another plaintiff, Jamal Parris, 23, also allegedly engaged in sexual acts with Bishop Long, who encouraged him to call him "Daddy".

The lawsuit claims the bishop "manipulated and deceived Parris into thinking the acts were a 'healthy component of his spiritual life'."

Bishop Long has denied the allegations and said he would give his response to his congregation from the pulpit tomorrow.

"I have devoted my life to helping others and these false allegations hurt me deeply, but my faith is strong and the truth will emerge."