Voodoo Dolls Used in Sex Curse, Court Hears

By Erik Jensen
Sydney Morning Herald
September 22, 2010

http://www.smh.com.au/nsw/voodoo-dolls-used-in-sex-curse-court-hears-20100922-15n13.html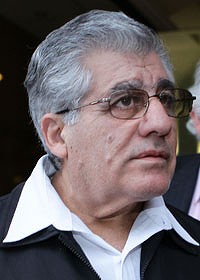 Tony Golossian ... prayer sessions conducted.
Photo by Kate Geraghty


Voodoo dolls, pornographic text messages and fetishes made from the hair and underpants of a woman sexually assaulted during a series of prayer session were used to convince her she was cursed, the District Court has heard.

The alleged victim, who cannot be named for legal reasons, told the court she had been raised a Greek Orthodox and taught by her parents that curses could be put on people causing ''generally just bad, bad things''.

It is alleged she was sexually assaulted during three prayer sessions conducted by the ''holy man',' Tony Golossian, in which she was given orange juice laced with Stilnox and had her eyes covered while Mr Golossian or another man had sex with her.

Mr Golossian is charged with 42 offences, including sexual assault offences and the misuse of intoxicating substances.

The woman told the court she met Mr Golossian in a ''mini-church'' at the back of his house in Dulwich Hill after receiving a text message saying she was cursed.

Mr Golossian had told her he could cure her for $3000 but she would have to be completely naked while he prayed on her. ''I [was] horrified. I was scared,'' she told the court.

''But at the same time I felt comfortable because he was this priest that we thought he was.''

When the alleged victim met Mr Golossian for her first prayer sessions she had her face covered with a towel and was told what she was about to feel would be a dream. ''He also said, you know, to be strong, not to be afraid, it'll feel like an angel will be entering my body. That it's a good thing I'll feel, you know,'' she told the court.

''If I feel dizzy or feel unwell it's basically … angels had entered and that's a good thing.''

The alleged victim said she felt someone having sex with her while her face was covered during the first prayer session.

''I was crying,'' she said. ''I asked him to stop and it hurt … He continued.''

When she told her husband about what had happened, she said, he was convinced by one of Mr Golossian's co-accused, Frances Psichogios, that she had been in the room throughout the sessions and his wife had only been dreaming.

She submitted to two more prayer sessions before the police were called.

The trial continues.