Bishop Richard Lennon, Breakaway St. Peter Church in Cleveland at Standoff

By Michael O'Malley
The Plain Dealer
September 22, 2010

http://blog.cleveland.com/metro/2010/09/bishop_breakaway_church_at_sta.html


Members of the closed St. Peter Catholic Church in downtown Cleveland have been celebrating Mass in a commercial space they have leased at East 71st Street and Euclid Avenue despite warnings from Bishop Richard Lennon not to worship at a site without his approval.



CLEVELAND, Ohio -- It's been a month since the priest and lay leaders of a breakaway Catholic church agreed to meet with Bishop Richard Lennon to discuss the congregation's unauthorized worshipping.

There's been no movement from either side, not from the newly formed Community of St. Peter or from Lennon, even though he said last month that there is nothing "more urgent for our diocese than addressing this matter."

In fact, there appears to be a standoff.

On Tuesday, diocese spokesman Robert Tayek said that the Rev. Robert Marrone, the spiritual leader of the breakaway group, is holding things up.

"We're waiting on him," said Tayek, adding that Lennon has "been trying to be as accommodating as possible."

But Bob Zack, a spokesman for St. Peter's board of trustees, said the bishop, not Marrone, is responsible for setting up a meeting.

"He's the one supposedly obligated to reach out," Zack said. "I still think the ball's back in his court."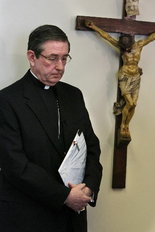 Bishop Richard Lennon.



All the while, the community's leaders remain disobedient to the bishop by continuing to celebrate Mass in rented commercial space not authorized by the diocese. They could face possible excommunication for doing so.

The community, angry over Lennon's closing of its church, St. Peter in downtown Cleveland, set up a sanctuary in a building at East 71st and Euclid Avenue.

Despite a warning from the bishop that their salvation was at stake if they worshipped in the unauthorized space, the group held its first Mass there Aug. 15, attracting a standing-room-only crowd of 350 people.

Each Sunday since then has been standing-room-only.

Following the first Mass, Lennon issued a statement saying he wanted to meet with Marrone and the congregation's leaders to try to bring them back into the fold. The bishop said the breakaway was "of grave concern."

At the second Mass, Aug. 22, Marrone told the congregation that he sent the bishop a letter saying he would meet with the bishop, but not without the congregation's nine-member board of trustees.

Tayek said that Marrone also agreed to meet with the bishop without the board, but with either a canon or civil lawyer.

Marrone could not be reached for comment Tuesday.

Zack said he was not aware of Marrone wanting legal representation in a meeting alone with the bishop.

He said Marrone and the board were waiting for the diocese to respond to Marrone's letter agreeing to a meeting.

The closing of St. Peter was part of a diocesewide downsizing that Lennon said was necessary because of changing demographics and shortages of priests and collection-basket cash.

When the St. Peter congregation learned that its 151-year-old church on the corner of East 17th Street and Superior Avenue was closing, it set up a nonprofit group to raise money to renovate and rent its new space. The goal was to keep the congregation together.

The new community operates on an annual budget of about $200,000.

Zack indicated there was nothing the diocese could do to keep the community from pressing on.