Jury Considers Verdict in Priest Abuse Trial in Devon

BBC News
September 23, 2010

http://www.bbc.co.uk/news/uk-england-devon-11398944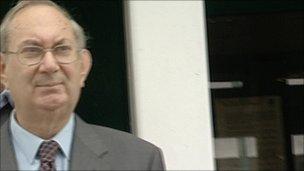 Canon James Wilson is accused of assaulting a number of Plymouth pupils between 1974 and 1981



The jury has gone out in the trial of a former primary school teacher accused of sexually assaulting pupils.

Canon James Wilson, 62, of The Rectory, Calstock, Cornwall, denies 16 charges of sexual assault.

Plymouth Crown Court was told that the charges relate to when he was teaching in Plymouth between 1974 and 1981.

The assaults are alleged to have involved seven girls and four boys aged six to nine. Canon Wilson was a Church of England lay reader at the time.

'Scared'

The allegations came to light after a former pupil told police her memory was triggered while watching a TV item about abuse by clerics.

She then contacted others who were at the school through Facebook, who said they had similar experiences.

The former pupils told Plymouth Crown Court that they had not reported the assaults at the time because they had been scared they would not be believed.

Canon Wilson told the court he could think of "no reason" why his ex-pupils had made the allegations.

He also said that 30 years ago physical contact with pupils was not discouraged if they were upset or sought encouragement.