Lawyer: Other Young Men Went on Trips with Pastor

By Errin Haines and Greg Bluestein
Associated Press
September 23, 2010

http://www.google.com/hostednews/ap/article/ALeqM5hb5f3cNbT0eJnGa3kMFS34MCjTNwD9IDKG3O0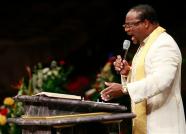 FILE -In this Monday, Aug. 3, 2009 file photo, Bishop Eddie Long speaks during a funeral service at New Birth Missionary Baptist Church in Lithonia, Ga. Long, the pastor of a nationally known Atlanta-area megachurch will wait until Sunday services to speak publicly about claims he has already denied that he coerced young men into sex. (AP Photo/John Bazemore, File)



The pastor of a nationally known Atlanta-area megachurch took other young men on trips as part of a mentoring program but stands by his denial of claims that he had sex with three of them, a lawyer for the religious leader said Thursday.

In lawsuits filed this week, three men who were members of the New Birth Missionary Baptist Church claim Bishop Eddie Long coerced them into sexual relations with gifts including cars, cash and travel when they were 17 or 18 years old.

Long canceled a planned interview on the Tom Joyner Morning Show on Thursday. Instead, Long's lawyer, Craig Gillen, went on the nationally syndicated radio show.

One of the claims in the lawsuits is that Long had sexual contact with the young men, who were enrolled in New Birth's ministry for teen boys, during trips he took them on in the United States and abroad. Gillen said the travel was part of a mentoring program that other young men also participated in.

"The mentoring process involving travel is not exclusive to the three plaintiffs making these allegations," Gillen said.

Gillen also read a statement from Long in which the pastor, a married father of four, said he's anxious to respond to the allegations but that his lawyer has advised him not to yet.

"Let me be clear. The charges against me and New Birth are false," Long's statement said.

Gillen also said the three making the allegations were motivated by money, adding that one of them is accused of breaking into Long's office.

In addition to canceling the radio show appearance, an expected Thursday news conference with Long was also called off.

Gillen said Long will speak directly about the allegations to his church congregation Sunday.

B.J. Bernstein, an attorney representing the plaintiffs, said she opened her investigation after getting a call from one of the men. The Associated Press normally does not name people who claim they are victims of sexual impropriety, but Bernstein said all three — Maurice Robinson, 20, Anthony Flagg, 21, and Jamal Parris, 23 — have consented to making their identities public.

Bernstein said she didn't trust local authorities to investigate the claims.

"This is a really large church that's incredibly politically powerful," Bernstein said. "There are pictures of this guy with every politician around. With something this important, how can I trust that word didn't get back to the bishop?"

DeKalb County Sheriff Thomas Brown has been a member of New Birth for more than 15 years and sits on the advisory board for Long's Longfellows Youth Academy. He said he would stand by the bishop and bristled at Bernstein's suggestion that local authorities couldn't be trusted.

"I take offense to that," he said. "It does not merit a dignified response."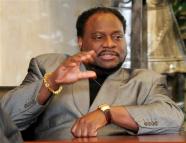 FILE - In this Jan. 18 2007 file photo, Bishop Eddie Long, of the New Birth Missionary Baptist Church, in Lithonia, Ga. gestures during an interview in Lithonia. Two men on Tuesday, Sept. 21, 2010 filed a lawsuit accusing Long of exploiting his role as pastor of an Atlanta-area megachurch to coerce them into sexual relationships when they were members of his congregation. (AP Photo/Gene Blythe, File)



Their pastor has been silent and so are most at Long's 25,000-strong church. But those who will speak say they are supporting him.

Lance Robertson, who joined New Birth nearly two decades ago and has coached youth basketball there, said Wednesday that members were hurting.

"I support and will stand with my bishop, but right now in the court of public opinion, it does not look good," Robertson said. "This affects too many people. As the bishop goes, New Birth goes. He built New Birth."

Bernstein said that her case hinges on her three clients' testimony and that she doesn't have much physical evidence backing up her complaint. Long sent dozens of e-mails and phone calls to her clients, though they weren't "overly sexual," she said. Bernstein said she plans to subpoena records from Long that will show he traveled with the young men to New York, Las Vegas, New Zealand and elsewhere.

Robertson, the church's youth basketball coach, said he wants to hear Long respond to the accusations.

Long, who was appointed pastor of New Birth in 1987, presides over an empire that claims athletes, politicians and entertainers as members.

President George W. Bush and three former presidents visited the sprawling New Birth Missionary Baptist Church in the Atlanta suburb of Lithonia for the 2006 funeral of Coretta Scott King, the widow of the Rev. Martin Luther King Jr. Long introduced the speakers and the Rev. Bernice King, the Kings' younger daughter, delivered the eulogy. She is also a pastor there.

Today, New Birth sits on 250 acres and has more than 25,000 members, a $50 million, 10,000-seat cathedral and more than 40 ministries.

Not all of his attention, though, has been positive. The church was among those named in 2007 in a Senate committee's investigation into a half-dozen Christian ministries over their financing.

Long has called for a national ban on same-sex marriage. In 2004, he led a march with Bernice King to her father's Atlanta grave to support a national constitutional amendment to protect marriage "between one man and one woman."

This isn't the first allegation against a religious leader who has crusaded against gay marriage. Ted Haggard left New Life Church of Colorado Springs, Colo., in 2006 after a male prostitute said Haggard paid him for sex. Haggard denied the allegations but later admitted to "sexual immorality" and launched a new church in June 2010.