Megachurch Head Will Talk Sunday about Sex Claims

By Errin Haines and Greg Bluestein
Associated Press
September 23, 2010

http://www.google.com/hostednews/ap/article/ALeqM5hb5f3cNbT0eJnGa3kMFS34MCjTNwD9IDJTSG1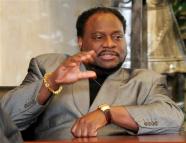 FILE - In this Jan. 18 2007 file photo, Bishop Eddie Long, of the New Birth Missionary Baptist Church, in Lithonia, Ga. gestures during an interview in Lithonia. Two men on Tuesday, Sept. 21, 2010 filed a lawsuit accusing Long of exploiting his role as pastor of an Atlanta-area megachurch to coerce them into sexual relationships when they were members of his congregation. (AP Photo/Gene Blythe, File)



The pastor of a nationally known Atlanta-area megachurch will wait until Sunday services to speak publicly about claims he has already denied that he coerced young men into sex.

Bishop Eddie Long canceled an interview on the Tom Joyner Morning Show on Thursday. Instead, his lawyer, Craig Gillen, went on the nationally syndicated radio show and read a statement from Long. Gillen said Long would not hold an expected news conference Thursday.

The lawyer repeated Long's denial of the allegations in the lawsuits filed this week. Three young men who were members of the New Birth Missionary Baptist Church claim Long coerced them into sexual relations with gifts including cars, cash and travel.

The lawyer said Long will address the allegations when he speaks to his church on Sunday.