Male Parishioners Allege Atlanta Minister Coerced Sex

By Larry Copeland
USA Today
September 23, 2010

http://www.usatoday.com/news/religion/2010-09-23-long22_ST_N.htm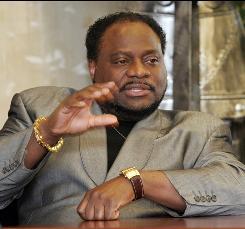 In this Jan. 18 2007 file photo, Bishop Eddie Long, of the New Birth Missionary Baptist Church, in Lithonia, Ga. gestures during an interview in Lithonia. Two men on Tuesday, Sept. 21, 2010 filed a lawsuit accusing Long of exploiting his role as pastor of an Atlanta-area megachurch to coerce them into sexual relationships when they were members of his congregation.



ATLANTA — A prominent Atlanta minister and vocal critic of same-sex marriage is denying allegations by three young men who attended his church that he coerced them into sexual relationships, lavishing them with trips, cars and jewelry.

The allegations against Bishop Eddie Long, 57, pastor of New Birth Missionary Baptist Church in suburban Atlanta, rocked the city Wednesday. Long, a charismatic preacher who often takes the pulpit in tight-fitting shirts that show off his muscular arms, is a kingmaker in state and local politics. Would-be officeholders visit his 10,000-seat cathedral in Lithonia to woo his congregation of 25,000.

Long's church hosted the 2006 funeral of Coretta Scott King, which was attended by then-president George W. Bush and former presidents Bill Clinton, George H.W. Bush and Jimmy Carter. King was the widow of Martin Luther King Jr.; their daughter, Bernice King, who is also a pastor at New Birth, delivered the eulogy.

The three men, now in their 20s, allege in lawsuits filed Tuesday and Wednesday in DeKalb County State Court that they were 17 and 18 when Long, their mentor and confidant, seduced them with cars, clothes, jewelry and electronics.

"Defendant Long has a pattern and practice of singling out a select group of young male church members and using his authority as bishop over them to ultimately bring them to a point of engaging in a sexual relationship," all three suits allege.

USA TODAY generally does not identify people who say they are the victims of sexual abuse. But B.J. Bernstein, the plaintiffs' attorney, said the three men — Maurice Robinson, 20, Anthony Flagg, 21, and Jamal Parris, 23 — have consented to making their identities public.

Craig Gillen, Long's attorney, told the Associated Press that Long "categorically denies the allegations." Gillen's office did not return calls from USA TODAY. Art Franklin, Long's spokesman, also did not return calls. "This is a case of retaliation and a shakedown for money," Franklin told CNN, calling the lawsuits "a dog-and-pony show."

Asked by AP about a possible motive for the accusations, Gillen cited a break-in at Long's office in June. Bernstein said one of the plaintiffs is facing a criminal burglary charge in the incident, but she said the break-in was a way of lashing out at Long.

All three lawsuits seek a jury trial and unspecified compensatory and punitive damages. Bernstein said the men agonized about suing.

"To be able to say publicly, 'This is my name, and I as a young man endured sexual acts from another man' is the most difficult thing you can possibly say," she said. "I'm ready to depose Bishop Long. He can talk under oath, my guys can talk under oath, and we'll go from there."

Long, who built a congregation of about 150 into a megachurch over two decades, has spoken out against homosexuality. He once called for a national ban on same-sex marriage and led a downtown Atlanta march against gay marriage in 2004.

William Boone, a political scientist at Clark Atlanta University, says Long "has a fairly middle-class congregation, which also translates into some political influence."