Vatican Bank Probe Targets "Numerous Individuals" over Millions of Euros

The Guardian
September 23, 2010

http://www.guardian.co.uk/world/2010/sep/23/vatican-bank-probe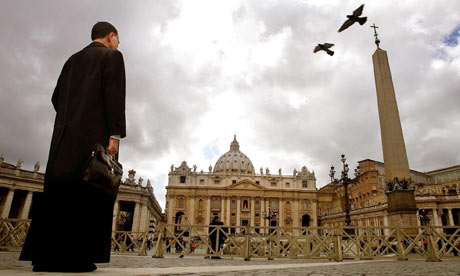 The Vatican has expressed astonishment at the move by Italian authorities. Photograph: Mario Tama/Getty Images



Italian investigators are trying to identify "numerous individuals" who appear to have received more than ˆ2m (?1.7m) through an account at the Vatican bank.

On Tuesday, Ettore Gotti Tedeschi, the president of what is properly known as the Institute for the Works of Religion (IOR), and his director general were formally placed under investigation by prosecutors in Rome, suspected of violating Italy's money-laundering regulations.

The Vatican has expressed astonishment at the move, which related to attempts to transfer some ˆ23m (?19.5m) from an Italian bank account, allegedly without disclosing the identity of the party for which it was acting.

A Vatican statement said the bank was merely moving its own money around. And a front-page article in the Holy See's semi-official newspaper, L'Osservatore Romano, said: "The nature and scope of the operations now under investigation could have been cleared up simply and swiftly [by the Bank of Italy]."

Extracts from the judge's warrant that blocked the transfers, published in the Italian media, suggest there is more to the affair than a simple misunderstanding or oversight, though not necessarily anything that indicates Vatican wrongdoing.

La Repubblica quoted the warrant as saying that between January 2008 and November 2009 the IOR's account with Credito Artigiano received bank drafts worth ˆ2,132,297. But the deposits "referred to drafts drawn by other people on third-party banks in favour of numerous individuals ... none ever coinciding with the IOR".

The investigators were also reported to be intrigued by three substantial deposits of between ˆ22m (?18.7m) and ˆ25m (?21.2m) that appeared to come from the closure of other IOR accounts. Corriere della Sera said this was partly because the other accounts had ostensibly been closed by "withdrawal using counter forms", so presumably in cash.

The paper said that contrary to what was originally reported the IOR's account had been frozen by Credito Artigiano for five months when the Vatican bank ordered the money transferred. Most of it was to have been sent to Germany, the rest to another Italian bank.

La Repubblica reported that prosecutors had waited for five days for an explanation from the IOR before going public. It said the bank may have kept quiet for fear of conceding to the Italian authorities the right to inspect its books.