Mackillop Banished after Uncovering Sex Abuse

ABC News
September 24, 2010

http://www.abc.net.au/news/stories/2010/09/25/3021772.htm?section=justin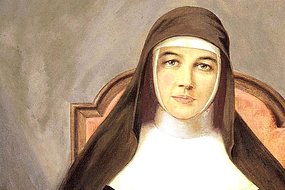 Mary MacKillop was banished from the Catholic Church for five months.



Mary MacKillop, the nun who will soon be Australia's first saint, was excommunicated by the Catholic Church because discovered children were being abused by a priest and went public, ABC's Compass program can reveal.

In 1871, after only four years as a nun, she was excommunicated from the Roman Catholic Church and turned out onto the street with no money and no-where to go.

MacKillop's cause for sainthood began in 1925 and has had the tireless backing of the Sisters of Saint Joseph of the Sacred Heart, the order she founded.

On October 17, MacKillop's canonisation by Pope Benedict XVI will be a momentous occasion for Australia's 5 million Roman Catholics.

But these new revelations show there were some in the church who set out to destroy the order that put her on the path to sainthood.

While serving with the Sisters of St Joseph, MacKillop and her fellow nuns heard disturbing stories about a priest, Father Keating from the Kapunda parish north of Adelaide, who was allegedly abusing children.

They told their director, a priest called Father Woods, who then went to the Vicar General.

The Vicar General subsequently sent Father Keating back to his home country of Ireland, where he continued to serve as a priest.

Father Paul Gardiner, who has pushed for MacKillop's canonisation for 25 years, says Father Keating's fellow Kapunda priest Father Horan swore revenge on the nun for uncovering the abuse.

"The story of the excommunication amounts to this: that some priests had been uncovered for being involved in the sexual abuse of children," he said.

"The nuns told him and he told the Vicar General who was in charge at the time and he took severe action.

"And Father Horan, one of these priests, was so angry with this that he swore vengeance - and there's evidence for this - against Woods by getting at the Josephites and destroying them."

Father Horan was by now working for Adelaide's Bishop Shiel and urged him to break the sisters up by changing their rules.

When MacKillop refused to comply, she was banished from the church at the age of 29.

"Mary was not excommunicated, in fact or in law. She submitted to a farcical ceremony where the Bishop had ... lost it," Father Gardiner said.

"He was a puppet being manipulated by malicious priests. This sounds terrible but it's true."

Five months later Bishop Shiel was gravely ill and dying. From his deathbed he instructed that MacKillop be absolved and restored.

A statement from the Sisters of St Joseph says the events of September 1871 have "been comprehensively documented".

"There were several factors that led to this painful period for Mary and the sisters," the statement said.

"The reasons for Mary's excommunication have been written about and commented on in the public domain since that time. This is consistent with the information contained in the Compass program."

In 2009, 100 years after MacKillop's death, Archbishop of Adelaide Philip Wilson publicly apologised to the Sisters of St Joseph for Mary's wrongful excommunication.

"On behalf of myself and the archdiocese I apologise to the sisters, especially to the sisters for what happened to them in the context of the excommunication when their lives and their community life was interrupted and they were virtually thrown out on the streets and that this was a terrible thing," he said.