Oregon Archbishop John G. Vlazny: Catholic Church Won't Change Position on Women's Ordination

By Nancy Haught
The Oregonian
September 24, 2010

http://www.oregonlive.com/portland/index.ssf/2010/09/oregon_archbishop_john_g_vlazn.html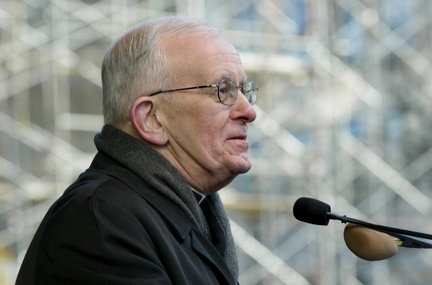 The Most Rev. John G. Vlazny



Archbishop John G. Vlazny, leader of Western Oregon's 400,000 Catholics, doesn't see the Catholic Church changing its position on women's ordination.

"Even if I were elected pope tomorrow -- I don't think I could change it," he said in a telephone interview Tuesday. "I feel badly that people are hurt over the issue."

In the Catholic Church, ordination is a sacrament, Vlazny said. "A priest is a sign of Jesus. Can a woman be a sign of Jesus? Of course she can -- in baptism," he said -- but not as a priest. Vlazny rejects arguments that early in church history, women were ordained. The evidence "is not valid," he said.

"My own feeling is that we still have to deal with the true empowerment of the laity," he said, referring to men and women who serve the church without being ordained. "We priests are still learning how to be what we're called on to be and not be everything we were in the past. We're all very uneven on that. Some priests are very good at it. Some priests are lousy at it."

In 1994, Pope John Paul II issued an apostolic letter on priestly ordination. "I declare that the church has no authority whatsoever to confer priestly ordination on women and that this judgment is to be definitively held by all the church's faithful," he wrote. Since then, Catholic clergy have been discouraged from discussing the topic.

Vlazny said that when Catholics complain that women are not valued in the church, he wants to respond: "Come to my pastoral center. You'll find lots of women at work." He contrasted this with the disparity he sees among men and women who fly first class.

"Men have the jobs that get them upgraded to first class," Vlazny said. "We're not any worse than the culture -- except for ordination."