Clergy Abuse in Delaware: Wilmington Diocese Outlines Cash-out Strategy

By Sean O'Sullivan
News Journal
September 24, 2010

http://www.delawareonline.com/article/20100924/NEWS01/9240349

WILMINGTON -- The Roman Catholic Diocese of Wilmington said it plans to put all its assets -- including property and cash -- into a pot to be divided up among survivors of priest sexual abuse and other creditors, under a bankruptcy reorganization plan filed Thursday.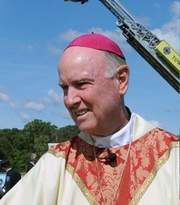 The diocese plan would sell the bishop's home on Bancroft Parkway, forcing Bishop W. Francis Malooly to find a new home.



The home of the bishop on Bancroft Parkway in the city would be sold -- forcing Wilmington Bishop W. Francis Malooly to find a new place to live, said diocese attorney Anthony G. Flynn.

The cash value of two buildings the diocese uses for office space on Union Street and Delaware Avenue would be put up -- likely forcing the diocese to rent or lease back that office space. And a handful of other diocese-owned properties along with about $12 million in cash would go into the pot, he said.

The vast majority of what most consider to be church operations would continue largely unchanged, in part because most of those activities take place in the parishes, and in parish facilities, which are separate from the diocese, church officials said.

"There will be Mass every week. Schools will be in session. It will be business as usual as much as possible," Flynn said. "But the security blanket of the diocese won't be there going forward."

Thomas S. Neuberger, who represents 98 of the 151 survivors who are suing the diocese, declared the plan a "sham" and a "shell game." Several abuse survivors at a press conference with Neuberger echoed that sentiment.

"I am not angry. I am heartsick," said survivor Mary Dougherty, who testified in bankruptcy court last month about the abuse she suffered at the hands of a priest when she was a child.

Diocese employees and pensioners also are expressing worries about their future, despite assurances from church officials.

Maria Carpitella, 65, of Wilmington, who worked in diocesan education for almost 20 years before retiring, said some employees are worried whether they would be able to retire and some wonder whether they will have a building to work in or a job to go to, she said. She said they are also worried their pensions will evaporate.

"I'm very, very, very much concerned for everyone," she said.

Flynn said the plan does not affect pensions for priests or lay employees because money involved in meeting those obligations is largely in restricted trusts exempt from bankruptcy proceedings. The diocese has about 65 employees and another 125 affiliated employees working for charities, schools or the diocese newspaper.

He said anyone who retired from a job with the diocese or a parish before Jan. 1, 2009, is completely unaffected.

And while some money that is used to pay the pensions of those who retired after that date is involved in this process, Flynn said, between money that has already been set aside and money that will be distributed from the pot to pensioners plus commitments to fund pensions going forward, all the obligations will be met.

"We believe no one is going to lose their pensions or have a reduction in their benefits," he said.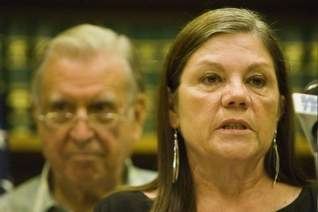 Mary Dougherty and other abuse survivors criticize the Catholic Diocese of Wilmington's bankruptcy plan Thursday in Wilmington. "I am not angry, I am heartsick," Dougherty said. (Special to The News Journal/SAQUAN STIMPSON)



Flynn, however, said attorneys for the survivors can challenge those restricted trusts in bankruptcy court.

The plan only directly affects the diocese, and at least for the moment, does not affect the parishes or the 31 male and 11 female independent congregations, like the Oblates of St. Francis de Sales which operates Salesianum high school.

The reorganization plan was announced after settlement talks to resolve all outstanding legal claims by abuse survivors against the diocese stalled earlier this month, perhaps permanently. Neuberger says the plan essentially offers victims $37,500 to $75,000 each, far short of the $1.3 million average settlement reached with victims in other parts of the country and the $2.5 million that had been the average settlement in priest abuse cases in Delaware before the diocese declared bankruptcy.

"The plan is a mean-spirited, vindictive, hypocritical act, maliciously intended to prolong the suffering of survivors," said Neuberger, adding that it also gives priority to other parties, over the survivors, in payouts.

Flynn responded that Neuberger was misreading or misstating the plan and that the $75,000 payout is only one option that he does not expect many to choose. Claimants also have the option of going to binding arbitration or having a trial in U.S. District Court to determine their compensation.

"It is just wrong to imply that we are trying to stick people with $75,000 and then compare that to settlements around the country," Flynn said. "I would expect relatively few people to elect to take the $75,000 option. ... The average settlement will be far higher than that number."

Flynn also said the diocese is also voluntarily making documents relating to sexual abuse by priests publicly available as part of the plan. "We are the first diocese in the country to do so," he said.

Under the plan, the diocese would put all of its assets into a single pot, which would be divided among those who make valid claims, a group which includes those with pending litigation against the diocese and other creditors like banks or those who do business with the diocese.

Professor Juliet Moringiello at Widener University, who specializes in bankruptcy issues, said it is a fairly standard Chapter 11 reorganization plan -- in which the diocese is leaving itself $3 million to continue operations, along with rented office space.

Neuberger and other attorneys charge that the church is acting more like a business, making money the priority, rather than as clergy whose stated goal, recently repeated by Pope Benedict XVI, is to make victims "the first priority."

There also is the issue of a multimillion-dollar pooled investment account the diocese shares with individual parishes and other affiliates. U.S. Bankruptcy Judge Christopher S. Sontchi already has ruled that the pooled account worth an estimated $120 million should be included in this process but the diocese is appealing that ruling to the U.S. Third Circuit of Appeals.

Attorneys for survivors are pressing the bankruptcy court to include the assets of individual parishes, something Neuberger said could add over $228 million.

"While the plan is not supported by all creditors, at this time, its filing comes after months of negotiations," said Malooly in a statement, adding that while there has not yet been a resolution, "substantial progress was made" in mediation. "A global settlement remains our goal, and negotiations ... are ongoing," he said.

The plan will have to be approved by Sontchi, and attorneys representing the victims said they will be presenting their own reorganization plan to Sontchi in the weeks to come.

The Rev. Tom Flowers of St. Polycarp Catholic Church in Smyrna said there has to be justice for all the victims and a fair settlement so employees get their pensions and other diocesan obligations are met. It's difficult for people who work in the offices and uncertainty will continue until there is a settlement, he said.

Fortunately, Flowers said, church attendance around the diocese has remained strong, along with giving. "I think the priests and the people are 1,000 percent behind the bishop," he said.

Attorneys for abuse survivors believe assets of the parishes should and eventually will be included in the bankruptcy proceedings. Several survivors also expressed concern Thursday that the diocese seemed more concerned with priest pensions -- including those for predator priests -- than in fairly compensating and reconciling with victims.

"My son suffered for many years before he took his own life," said Othell Heaney, whose family has a claim pending against the diocese. "We suffered with him, not knowing why, and we have been without a son for 23 years. But the priests who abused children like my son are living good lives, in comfortable retirements, and getting pensions from the diocese. ... I tried to talk to the bishop because we were good Catholics. Now we have lost our faith."

"Reading this plan, I feel like I'm being abused all over again," said Raymond Donahue, who charges in his lawsuit that he was raped repeatedly by a priest when he was 12 in the 1960s.

Malooly said Thursday that the plan allows the diocese to "fulfill its legal and moral obligation to survivors, while continuing our charitable, educational and spiritual ministries."

"There should be no tension between our obligation to compensate those who have suffered so grievously by priests in whom they placed their trust, and our duty to continue the works of the Church in this diocese," Malooly said.

It is expected that final approval of the reorganization plan will not take place for a minimum of three to four months.

All parties involved in the bankruptcy proceeding are scheduled to meet with Sontchi today for a status update

Staff reporter Gary Soulsman contributed to this story.

Contact Sean O'Sullivan at 324-2777 or sosullivan@delawareonline.com