Australia's First Saint "Exposed Paedophile Priest"

AFP
September 25, 2010

http://www.google.com/hostednews/afp/article/ALeqM5gex1RKuKR7nBscNIza5oGJMtf_Kg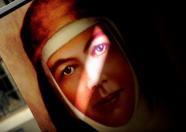 Mary MacKillop will be canonised by Pope Benedict XVI next month



The late nun who is soon to become Australia's first Catholic saint was briefly excommunicated by the church in part because she exposed a paedophile priest, a new documentary claims.

Mary MacKillop, who will be canonised by Pope Benedict XVI next month, is known as a tireless educator and founder of the Sisters of Saint Joseph of the Sacred Heart order of nuns which ventured into remote outback areas.

But a documentary to be screened on national broadcaster ABC will paint her as a woman who also spoke up to church authorities about allegations of child molestation by priests, reports said Saturday.

"The story of the excommunication amounts to this: that some priests had been uncovered for being involved in the sexual abuse of children," Father Paul Gardiner, a campaigner for MacKillop's sainthood told the documentary makers.

MacKillop and her nuns told their superiors and severe action was taken, including sending one priest back to Ireland, and this so enraged other priests that they swore to take revenge against MacKillop's order, he said.

Part of this revenge included encouraging the then Bishop of Adelaide Laurence Shiel to excommunicate MacKillop, something he duly did in 1871.

"She (MacKillop) submitted to a farcical ceremony where the Bishop had... lost it," Gardiner told the documentary, which screens on October 10. "He was being manipulated by malicious priests."

The man sent back to Ireland continued as a priest, the documentary says.

"Were they covering up sexual abuse? Well, I suppose you could put it that way," Gardiner said. "Or priests being annoyed that somebody had uncovered it and being so angry that the destruction of the Josephites was decided upon."

From his deathbed some five months later, Shiel instructed that MacKillop be absolved and the Melbourne-born woman went on to grow her order around the country, attracting hundreds of women to her cause.

Calls for MacKillop's canonisation began shortly after her death in 1909.

The Sisters of St Joseph did not dispute the findings of the documentary.

The revelations come as the Catholic Church worldwide is faced with concerns about child sex abuse by priests.