Pope's Role in Abuse Crisis Studied

By David Yonke
Toledo Blade
September 25, 2010

http://toledoblade.com/article/20100925/NEWS10/9240346

CNN report cites documents, limits in church laws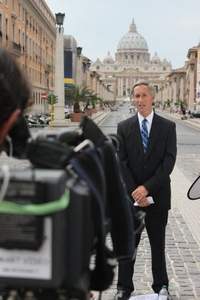 CNN correspondent Gary Tuchman tells The Blade he made the documentary on Pope Benedict XVI's role in handling of the clerical sex-abuse scandal because the issue is far from over.



A week after Pope Benedict XVI's historic, high-profile trip to Great Britain - during which he apologized several times for the clerical sexual abuse crisis - a documentary on the Pontiff's track record in dealing with abusive priests debuts tonight on CNN.

What the Pope Knew, an hour-long program being shown at 8 and 11 tonight and tomorrow, reviews detailed information obtained by CNN national correspondent Gary Tuchman from internal Catholic Church documents as well as interviews with abuse victims and a high-ranking Vatican official.

The hard-hitting yet balanced documentary shows that before being elected Pope in 2005, then-Cardinal Joseph Ratzinger had opposed or delayed the laicization, or defrocking, of some priests who were known to be child abusers - including one who was in a California prison, convicted of child molestation charges.

But the program tempers the harsh evidence by pointing to gray areas in culture and context, as well as citing limitations in church law.

The documentary also states that since being elected, Pope Benedict has done more than any of his predecessors to reach out to victims and take steps to prevent further abuses.

During last week's four-day trip to the United Kingdom, the first state visit to Great Britain by a pope, Pope Benedict met with victims of clerical sexual abuse - the third time he has done so - and expressed his "deep sorrow and shame" that priests abused children.

Mr. Tuchman, in an interview with The Blade, said one reason for making the documentary was because the clerical sex-abuse crisis is not over, despite the countless news stories that have been reported since it began in Boston in 2002.

He emphasized the documentary "in no way, shape, or form attacks the Catholic faith. The Catholic faith is a great religion."

What the Pope Knew includes the first public interview with Terry Kohut, who had filed a lawsuit naming the Pontiff as a defendant.

Mr. Kohut, who had sued anonymously as John Doe but decided to step forward for the CNN program, was one of about 200 deaf children who were molested by the Rev. Lawrence C. Murphy at St. John's School for the Deaf in St. Francis, Wis., from the 1950s to the 1970s.

Mr. Kohut began writing to the Vatican in 1995, asking church officials to defrock Murphy.

Archbishop Rembert Weakland, the former leader of the Milwaukee Archdiocese, also wrote to the Vatican with the same request.

"Molesters always look for the weak and the vulnerable - that's nothing new, and it's not just in the Catholic Church," Mr. Tuchman told The Blade. "But this case with Father Lawrence Murphy was especially pitiful because who could be more vulnerable than boys who can't hear and in most cases can't speak? He was a monster, and Archbishop Rembert Weakland wanted him removed."

Their letters were addressed to Cardinal Ratzinger, at the time the head of the Congregation for the Doctrine of the Faith.

That Vatican department decides whether accused priests should undergo canonical trials.

When Cardinal Ratzinger's assistant ordered Murphy to undergo a secret church trial, the accused priest appealed to Cardinal Ratzinger for mercy, saying he was elderly and ill, had repented of his sins, and that "I simply want to live out the time that I have left in the dignity of my priesthood."

The trial was called off, and Murphy died in 1998 without a church trial or laicization.

"So Father Murphy died as a priest after molesting 200 boys," Mr. Tuchman said. "No matter how you feel about this issue, it's terrible. It's diabolical."

The CNN program includes a rare interview with Msgr. Charles Scicluna, the Vatican's prosecutor of justice.

Monsignor Scicluna told Mr. Tuchman that Pope Benedict, as Cardinal Ratzinger, was limited by church law, but that he went to Pope John Paul II seeking permission for more flexibility and greater authority in dealing with abusive priests.

Another horrific case of a priest abuser that What the Pope Knew reports is that of Stephanus Miller Kniesle, who was twice convicted of sexually abusing children and is a registered sex offender living in Northern California.

Bishop John Steven Cummins of Oakland wrote numerous letters to Cardinal Ratzinger's office asking that Father Kniesle be defrocked.

After a long silence, Cardinal Ratzinger cited an order from Pope John Paul II stating that no priest younger than 40 could be laicized, and that Father Kniesle could not be defrocked because he was too young.

Cardinal Ratzinger also said in his letter that he must consider "the good of the universal church."

Mr. Tuchman confronted Kniesle, who was eventually defrocked and is now married, but the former priest drove off, saying only: "It was all a long time ago."

While Pope Benedict at first blamed the abuse crisis on a media smear campaign, he eventually admitted guilt on behalf of the Catholic Church. The CNN program quotes the Pope's speech in Portugal in May when he said, "The greatest persecution of the church doesn't come from enemies on the outside but is born from the sins within the church."

John Allen, a leading Vatican news correspondent, told Mr. Tuchman that sometime after the 2002 crisis began rippling across the United States, Cardinal Ratzinger experienced "a conversion."

The future Pope began working diligently behind the scenes to hold abusive priests accountable, improve the way canon law addressed the issue, and speed up church trials and laicizations.

In terms of how the 2,000-year-old Roman Catholic Church typically responds to crises, the changes have been lightning swift, Mr. Allen said. "The typical working philosophy at the Vatican is, 'Talk to me Wednesday and I'll get back to you in 300 years.'•"

Pope Benedict's record in handling abuse cases is difficult to evaluate without weighing the complexities of church law, culture, and history, Mr. Tuchman states, and the program offers no pat answers or superficial conclusions.

As Mr. Allen said: "However bad you think the Vatican's response to this crisis has been, it would have been infinitely worse were it not for the personal leadership of Pope Benedict XVI."

Contact David Yonke at: dyonke@theblade.com or 419-724-6154.