DNA Paternity Test Clears Paraguay Leader Fernando Lugo

BBC News
September 26, 2010

http://www.bbc.co.uk/news/world-latin-america-11402325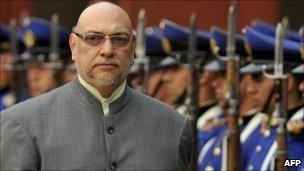 Fernando Lugo has made few public appearances since being diagnosed with cancer



Paraguayan President Fernando Lugo did not father a child with a woman who is suing him in a paternity case, DNA results have shown.

Mr Lugo's lawyers said the child's mother, Hortensia Moran, now had "less and less credibility".

The paternity case came after Mr Lugo, a former Catholic bishop, shocked Paraguay last year when he acknowledged another child as his son.

Mr Lugo, 59, was diagnosed with lymphatic cancer last month.

Continue reading the main story

Related stories

Paraguayan president has cancer

Paraguay paternity claim dropped

Paraguay leader admits love-child

He has spent much of the past month being treated in Brazil.

Ms Moran said her son, Juan Pablo, was conceived while she was working for one of the left-wing parties that supported Mr Lugo's candidacy for president in 2008.

While Ms Moran said she would consult her lawyers before announcing her next move, Mr Lugo's representatives said they wanted the paternity case thrown out of court.

A third paternity claim against the president was withdrawn earlier this year.

Mr Lugo served as a Roman Catholic bishop of the diocese of San Pedro, one of Paraguay's poorest areas, until stepping down in December 2006, saying he felt powerless to help the country's poor.

Two years later, he ended 61 years of conservative rule in Paraguay when he took office.

But analysts say his political position has weakened since officials announced on 6 August that he had non-Hodgkin's lymphoma.

Earlier this week, he sacked several senior military figures in a move many thought was aimed at staving off a coup.

Officials later rejected suggestions that they feared a military takeover.