Sex Allegations Roil Black Church Community

By Nia-Malika Henderson, Krissah Thompson
Washington Post
September 26, 2010

http://www.washingtonpost.com/wp-dyn/content/article/2010/09/25/AR2010092503691.html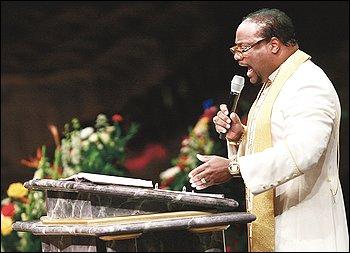 Bishop Eddie Long speaks during a 2009 funeral service at New Birth Missionary Baptist Church in Lithonia, Ga.



Bishop Eddie L. Long built a religious empire just outside Atlanta by preaching a blend of the Gospel mixing faith, politics and finance - wrapped up in a flashy style - that propelled him to the pinnacle of the movement of large, independent African American mega-churches across the nation.

Now, after he was slapped with four lawsuits last week alleging he used his position to coerce young male members of his flock into sex acts, Long's future as a towering figure in the one of the country's most accomplished black communities and beyond is in question. On Sunday, Long is expected to take to the pulpit of his sprawling Lithonia church and address his 25,000-member congregation.

Many thousands more will be listening, and some are even flying to witness the event. The allegations have been a hot topic on black radio and Web sites since they came to light Tuesday, and black preachers across the country will continue the conversation from their pulpits Sunday.

It is, parishioners and observers say, a moment of undeniable crisis in the black church.

"The only person in the pantheon of black churches who is bigger than this is T.D. Jakes," said Anthea Butler, a religion professor at the University of Pennsylvania who was among those flying down to Georgia. "And Atlanta is the epicenter of black church life. . . . It's going to rock everything at the church, and people will really start to question these ministers."

While there has been speculation that Long will step down from the pulpit of New Birth, where he began ministering in 1987 with 300 members, his attorney, Craig Gillen, said in an interview that he did not expect that to happen. Instead, he said, he thinks Long will offer a vigorous defense against the accusations, which Long addressed in a statement posted Thursday to his church's Web site.

"I am anxious to respond directly to these false allegations and I will do so. However, my lawyers have counseled patience at this time," Long said. "But let me be clear; the charges against me and New Birth are false. I have devoted my life to helping others and these false allegations hurt me deeply. But my faith is strong and the truth will emerge."

Long, 57, has been a national figure in African American church circles since the mid-1990s. He came to national prominence in 2006 when his New Missionary Baptist Church hosted four U.S. presidents for the funeral of Coretta Scott King. The church sits on a 240-acre campus, has satellite churches in other cities and is one of the largest venues in Georgia.

According to suits filed in Dekalb County, Long enticed the young men into homosexual acts with jewelry, cars, trips and access to celebrities. B.J. Bernstein, the attorney for the four plaintiffs, declined to comment on the case or whether more young men would come forward with similar allegations. Last week she released pictures Long allegedly sent to his accusers from his cellphone of himself in bathrooms in a variety of tight-fitting muscle shirts.

In their lawsuits, the young men, all over 16 at the time of the alleged incidents, say that Long instructed them to call him "Daddy" and moved to block their relationships with girls by "increased contact and spiritual talk as to the covenant between the Spiritual Son and himself."

The lawsuits, which name Long, New Birth and LongFellows Youth Academy as defendants, say people in Long's circle knew about his conduct but did nothing to warn the defendants. They allege that he "has a pattern and practice of singling out a select group of young male church members and using his authority as Bishop over them to ultimately bring them to the point of engaging in a sexual relationship."

For years, Long has been either beloved or bemoaned for his glitzy lifestyle and politically connected mega-church. It has TV ministries, a fitness center, a school and a program for the homeless and addicted. According to its Web site, it has also held weekly "out of the wilderness" counseling sessions for the "discipleship of men and women struggling with homosexuality."

In 2004, Long and Bernice King, the daughter of Martin Luther King Jr., led a march in downtown Atlanta calling for a "return to family values in the African American community" and opposing same-sex relationships, while demanding health-care and education reform. When the King family decided to hold Coretta Scott King's funeral at the church, the decision was met with protest in some circles because of his anti-gay views.

Long was a supporter of President George W. Bush's faith-based initiatives. Also known for his generosity, he has paid off members' mortgages, given out cars and pushed homeownership as part of God's plan for believers.

His church prospered along with its surroundings. Dekalb County is one of the wealthiest predominantly black communities in the country, and Long and his church are major players there. It is popular among young professionals and college students, and the church runs shuttle buses to and from the campuses of Spelman, Morehouse and other historically black colleges.

Long felt he, too, should be prosperous. In 2005, the Atlanta Journal-Constitution published tax records from the church showing that, from 1997 to 2000, Long had accepted $3 million in salary, housing and other perks from a charity he controlled.

He told the newspaper: "We're not just a church, we're an international corporation. We're not just a bumbling bunch of preachers who can't talk and all we're doing is baptizing babies. I deal with the White House. . . . I pastor a multimillion-dollar congregation."

Those who study African American churches say - whatever the conclusion - the scandal facing Long will force the black church community to have the same conversation around sexuality and faith that has been taking place in other Christian faith traditions for years.

Those discussions have often begun around scandals, such as the cases of child sexual abuse by priests in the Catholic Church and the revelations that Ted Haggard, the former leader of the National Evangelical Association, allegedly engaged in sex acts with a male prostitute. These issues have gotten fewer headlines and less national attention in black church circles, though the popular gospel singer Tonex did spark a short-lived conservation when he announced he was gay on a gospel show last year. He has since said that he has been shunned on the gospel music circuit.

The question of sexuality in black churches is "an incredibly vexed" issue, said Eddie Glaude, a professor of theology and African American studies at Princeton. "We have to use this moment as an occasion to talk about the relationship between our commitment to Christ and the reality that we are sexual beings."