Retired Priest Gets Home Detention in Sex Case

By Kate Leckie
The News-Post
September 25, 2010

http://www.fredericknewspost.com/sections/news/display.htm?StoryID=110357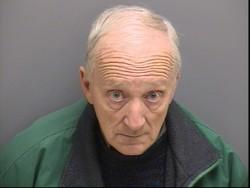 Thomas Roy Bevan, a retired priest who maintains his innocence, entered an Alford plea of guilt Friday to child abuse of an altar boy in 1976.



A retired priest who maintains his innocence entered an Alford plea of guilt Friday in Frederick County Circuit Court to child abuse of an altar boy in 1976.

Thomas Roy Bevan, 74, told visiting Montgomery County Circuit Judge Richard E. Jordan that he has been weighing whether to take a plea agreement since he was charged with two offenses dating to early 1976, when he served as a pastor in Frederick.

But as trial dates for Bevan approached next week -- and in light of the ongoing sex scandals surrounding Catholic priests -- the Cascade man opted to take an Alford plea, said his defense attorney, Stephen F. Brennwald.

An Alford plea is not an admission of guilt, but an acknowledgment that had the case proceeded to trial, the state had sufficient evidence to convict.

Jordan followed a plea agreement reached by Assistant State's Attorney Lindell K. Angel and Brennwald that suspends a 10-year prison sentence for Bevan, but places him on 18 months of home detention and five years of probation.

By state law, Bevan must register as a child sex offender for life.

The victim in the case for which Bevan was convicted did not attend court Friday, instead choosing to submit a written impact statement that was reviewed by Jordan and sealed at Angel's request.

"It is very clear that the victim was profoundly affected throughout his life by the incident that has come before this court," Jordan said, adding that the victim accepted the sentence reached in the agreement.

The victim, now 44, was 10 years old when he alleges Bevan lured him away from other boys at a cabin in Emmitsburg, asked him if he wanted to play a game and committed a sex offense on him, Angel said Friday. Bevan was 39 at the time.

The Frederick News-Post does not identify victims of sex crimes unless they request to be named.

As Bevan stood to be sentenced, one man in the courtroom, the father of another altar boy who filed a complaint against Bevan, rose from his seat and walked out. He could be heard muttering an expletive.

The man's grandson followed him.

The man's son, who filed allegations against Bevan last fall, died weeks after making his complaint.

"His heart" gave out, the man said outside the courtroom. "This is what helped it along. (Bevan) didn't get enough time. He doesn't deserve to be on the streets."

Under the plea agreement, the state will not pursue charges against Bevan related to three other adults who alleged the priest abused them.

Allegations involving one boy occurred before case law existed for such offenses, Angel said. The second case involved the complainant who died, and a third man came forward after the second man's death.

Bevan declined to make a statement Friday. "On the advice of my lawyer, I have nothing to add," he said.

In addition to periods of home detention and probation, Jordan ordered Bevan to undergo a mental health evaluation and treatment, to take polygraph examinations as directed and not to have any contact with the victim involved in Friday's case or unsupervised contact with anyone under 16.

In late November, the Catholic Archdiocese of Baltimore announced an investigation had determined allegations against Bevan were credible.

In August 2009, Bevan was removed from his position at the Church of St. Patrick in Cumberland after two people said he abused them as minors while he served from 1974 to 1979 at St. John the Evangelist in Frederick.

Two others came forward later, alleging abuse by Bevan while he was at a Middle River church in the 1970s, an archbishop wrote in a letter to parishioners.

Brennwald expressed regret for everyone touched by the court case.

"It's been very difficult for the alleged victims and for their families," he said. "It's been very difficult for Mr. Bevan."