Strong Reaction to Bishop Long's Sermon

11 Alive
September 26, 2010

http://www.11alive.com/news/local/story.aspx?storyid=155729&catid=40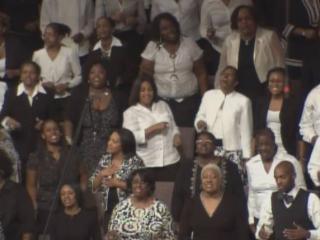 A full crowd packed New Birth Missionary Baptist Church



Lithonia, GA -- Parishioners and church visitors had strong reactions to Bishop Eddie Long's first public comments since he was accused of sexual abuse by four young men in civil lawsuits filed last week.

Many church members voiced their support for Bishop Long after Sunday's early morning service, which drew national media attention.

"It was amazing," said member Anne Wilkerson. "It just brought chills over my body. He made it clear that this thing is not him."

"I think he made his members feel comfortable by saying that isn't who he is," said member Juan Davis. "It's not who any of us believe he is, but he's not perfect. None of us are."

Bishop Long said he wanted to speak to his "family" at New Birth Missionary Church before talking to anyone else about the allegations contained in the lawsuits.

He canceled plans for a news conference last week and stayed silent until stepping into the pulpit on Sunday.

"I've been accused," Bishop Long said to his congregation. "I'm under attack. I want you to know that I'm not a perfect man, but this thing, I'm gonna fight it."

Some inside the church who heard the Bishop's message said they paid more attention to what he didn't say.

"He never said he didn't do it," said church visitor Chris Brown.

He never said he was guilty. He never said he was innocent."

"He seemed like he avoided the subject," said another man who attended the early service. "He said what he wanted to say and what he wanted to get out there. I don't think he said anything."

Bishop Long made it clear he's not going anywhere, despite speculation that he might step down from the pulpit to deal with the lawsuits.