Megachurch Flock Stands by Besieged Eddie Long

CBS News
September 27, 2010

http://www.cbsnews.com/stories/2010/09/27/national/main6904087.shtml

[with video]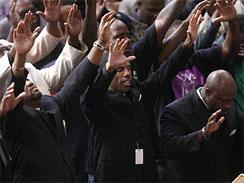 Members of the New Birth Missionary Baptist Church worship, Sunday, Sept. 26, 2010, in Atlanta.



(CBS/AP) Despite allegations that he lured four young men into sexual relationships, many of Bishop Eddie Long's followers remain unwavering in their support for him as he pledges to fight the accusations like David fighting Goliath.

Casting himself as the Bible's ultimate underdog, Long went before thousands of faithful supporters at his megachurch Sunday and promised to battle claims in lawsuits filed last week that he abused his "spiritual authority."

"I feel like David against Goliath. But I got five rocks, and I haven't thrown one yet," Long said in his first public remarks since the lawsuits were filed. He stopped short of denying the allegations but implied he was wronged by them.

"I have never in my life portrayed myself as a perfect man. But I am not the man that's being portrayed on the television. That's not me. That is not me," he said.

Long's brief addresses to the congregation at New Birth Missionary Baptist Church were met with thunderous applause and an outpouring of support during services that were equal parts part rock concert and pep rally. The sanctuary was nearly filled to its 10,000-seat capacity for both the 8 a.m. and 11 a.m. services. Many lined up two hours before the doors of the church opened.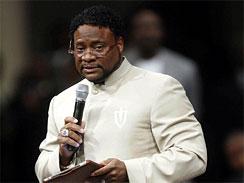 Bishop Eddie Long speaks Sept. 26, 2010, at New Birth Missionary Baptist Church in Atlanta.



Cheryl Barnett, who has attended New Birth since Long became senior pastor more than 20 years ago, said she was "very much fulfilled with what he had to say."

"It was simple. It was direct. He's standing in the scriptures. That's what we would expect from our minister," she said.

Followers prayed, sang and embraced one another as they rallied around their senior pastor.

CBS News correspondent Mark Strassmann reports that, in civil suits, four young men claim Long, their pastor, first adopted them as his "spiritual sons," then seduced them with scripture, cars and jewelry ... for sex.

"What the parents didn't know was that part of being a son is actually an abusive emotional and physical relationship with the children," plaintiff's lawyer B.J. Bernstein told CBS News. All four teens were older than Georgia's age of consent.

The allegations have rocked the church, one of America's most influential mega-churches, with 25,000 members.

Wearing a cream-colored suit as he strode into the church sanctuary hand-in-hand with his wife, Vanessa, Long paused to soak in the adoration.

During the second service, however, one young man in a blue shirt stood up and shouted: "We want to know the truth, man!" He was quickly escorted out and did not return.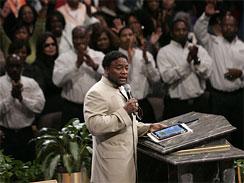 Long has told his congregation of thousands, "I love you, New Birth. I'm not leaving you if you don't leave me."



After the service, many expressed support for their leader.

"He said, 'This, I did not do.' And I believe him," one woman told CBS.

"We know and we love Bishop," said Annie Cannon, a seven-year member of New Birth. "We love our place of worship. My son goes to school here. We do everything here."

Long became one of the country's most powerful independent church leaders over the last 20 years, turning a suburban Atlanta congregation of 150 to a 25,000-member powerhouse with a $50 million cathedral and a roster of parishioners that includes athletes, entertainers and politicians. And there was almost no sign Sunday that his flock wanted to turn him away.

It is unclear whether Long faces any risk of being removed by his church's board, but the allegations at the very least guarantee months of scrutiny as the lawsuits move forward.

Long is a father of four who has been an outspoken opponent of gay marriage and whose church has counseled gay members to become straight. Two young men say he groomed them for sexual relationships when they were enrolled in the church's LongFellows Youth Academy, a program that taught teens about sexual and financial discipline. Two other young men - one of whom attended a satellite church in Charlotte, N.C. - have made similar claims.

The men say they were 17 or 18 when the relationships began. Federal and state authorities have declined to investigate because Georgia's age of consent is 16.

"I've been accused. I'm under attack. I want you to know, as I said earlier, I am not a perfect man," Long said. "But this thing, I'm going to fight."

Long did not address the allegations directly but spoke at length about enduring painful times. He used the word "painful" nearly 20 times. The term "difficult" came up seven times.

"We are all subject to face distasteful and painful situations. Bishop Long, Eddie Long - you can put your name in that blank - will have some bad situations," he said. "The righteous face painful situations with a determined expectancy. We are not exempt from pain, but (God) promises to deliver us out of our pain."

Long addressed the media briefly during a news conference between services, but media access to the services themselves was tightly controlled. Reporters were required to check in with church officials and were led to a separate part of the church to view the service. The media was also told not to interview church members inside the sanctuary or on church property.

After Long's remarks during the 8 a.m. service, an Associated Press reporter was escorted out of the sanctuary by church officials who said the press were not allowed in the sanctuary during worship.

Members clapped and swayed in their seats as the first service began, with several people with microphones singing on stage. Later in the service, hundreds began dancing and chanting, "Jesus, Jesus." A small group of young people held Apple iPads high over their heads, with the screens scrolling white letters against a black background reading, "It's time to praise him."

As Long entered the cathedral, a group of people shouted, "We love you bishop!"

"I love you, New Birth," Long replied. "I'm not leaving you if you don't leave me."