Pastor Kayanja Accuser Alive

By Francis Emorut
New Vision
September 26, 2010

http://www.newvision.co.ug/D/8/13/733202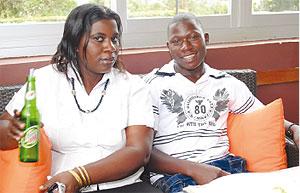 Samson Mukisa and his mother, Olivia Nansubuga



A man, who was yesterday reported dead by some sections of the media, is alive.Samson Mukisa, who had accused pastor Robert Kayanja of Rubaga Miracle Centre Cathedral of sodomising him, was yesterday spotted by New Vision shopping at Quality Supermarket in Lubowa on Entebbe road.

"I had just spoken to my son at 9:00pm, but I was shocked to hear that he was murdered," Olivia Nansubuga, Mukisa's mother told New Vision yesterday.

Local media yesterday reported that Mukisa had gone missing from his home in Kajjansi, a Kampala suburb.

Mukisa, who was in the company of his mother, declined to comment on the story.

His mother wondered what the motive of the report was.

Last year, the Police described allegations of sodomy against Kayanja as "baseless", "fabricated" and "full of lies" and later cleared him of the charges.

It was also reported yesterday that the National Coalition Against Homosexuality and Sexual Abuse in Uganda had petitioned the Inspector General of Police, Maj. Gen. Kale Kayihura, over the whereabouts of Mukisa.

Earlier, he had retracted his sodomy allegation before the Police and said he was pressured by pastors Solomon Male, Michael Kyazze and Martin Sempa to file a sodomy case against Kayanja.

Nansubuga, who is a resident of Kyengera, yesterday insisted that her son has never prayed at Miracle Centre Cathedral.

Nansubuga also disclosed that DNA test results proved that she is Mukisa's mother because there were allegations that she was masquerading. She said the test results are with the Police.