Bishop Eddie Long | Young Accuser Says He Loved Pastor, Now Considers Him 'monster"

By Christian Boone
Atlanta Journal-Constitution
September 28, 2010

http://www.ajc.com/news/dekalb/bishop-eddie-long-young-643161.html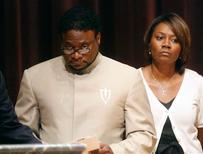 Bishop Eddie Long prepares to speak at a news conference, Sunday, Sept. 26, 2010, at New Birth Missionary Baptist Church in Atlanta. Bishop Eddie Long, the pastor of a Georgia megachurch accused of luring young men into sexual relationships, has told his congregation of thousands that all people must face painful and distasteful situations. (AP Photo/John Amis, Pool)



Jamal Parris, one of four young men to accuse Bishop Eddie Long of sexual coercion, told a local television station that he loved the Lithonia pastor but now considers him "a monster."

"This man manipulated us from childhood," Parris told WAGA-TV, who interviewed the 23-year-old outside a Colorado grocery store. "This was our father and we loved him."

Parris, who alleged that Long used church funds to lavish him and the other victims with gifts, said he reached out to the bishop privately before filing suit.

"This man turned his back on us when he had no more need for us," Parris told WAGA-TV. "That's not a man. That's a predator."

Attorney B.J. Bernstein, who represents the accusers, said she did not authorize the interview.

In a civil lawsuit filed last Wednesday, Parris, a former member of New Birth Missionary Baptist Church and one of Long's "spiritual sons," claims the charismatic bishop made him call him "Daddy," exploiting his role as a father figure and mentor.

Long has denied the allegations and told his congregation Sunday he will "vigorously" fight the charges against him. He has yet to comment on Parris' interview.

Meanwhile, 32 pastors gathered at the New Birth Missionary Baptist Church on Tuesday evening.

"We sang and prayed with the bishop," said the Rev. Jasper Williams, pastor of the Salem Bible Church.

Parris and his mother joined New Birth in 2001 when he was 14. Within two weeks, Long gave the teen his personal cell phone number, the suit alleges.

Their relationship intensified during the 2004-05 school year, with Parris alleging that he was a regular at Long's guesthouse on Snapfinger Road.

"Long would discuss the Holy Scripture to justify and support the sexual activity," the suit alleges.