Irish Church to Loosen Grip on School Education

By Audrey Carville
BBC News
September 28, 2010

http://www.bbc.co.uk/news/world-europe-11417813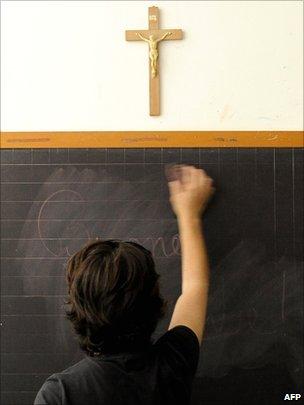 The Catholic Church has a huge influence in the Irish Republic



The Catholic Church has dominated almost every aspect of Irish life for centuries.

It has directly influenced government policy and social change. Nowhere is that more evident than in education.

But now, after hundreds of years, the Church is preparing to give up control of some primary schools.

At the moment, nearly every primary school in the Republic is run by the Catholic Church.

There are 3,165 such schools - 91% of which are controlled by the Church.

This means that classes are taught through a Catholic ethos.

The Church owns the land on which the schools are built and the local priest chairs the board of management. However, the schools are funded by the state.

This almost complete domination of the primary-school sector leaves parents with very little choice in how their child is educated.

Just 2% of schools are multi-denominational, and every year, these are oversubscribed. There is greater choice in the secondary-school sector where the Church has less control.

Mother-of-two Ivana Bacik is a senator in the Irish parliament. She wants change.

"I think religious instruction in a particular doctrine, in a particular faith, should not be carried out during the school day. I don't want my children to believe that there's only one religion that is the true religion, when it's not something their parents believe."

Abuse scandal

The calls for change have grown louder in the past year.

The publication of two reports detailing horrific levels of clerical sexual and physical abuse against children, and its cover-up by the Church authorities, have persuaded more parents that they do not want their children educated through the Catholic faith.

But for hundreds of thousands of others, they are happy to send their children to a Catholic-run primary school.

David Quinn, the director of the Iona religious institute and a father of two, says: "My faith is important to me. I want to see my kids raised in the faith. This is not all about doctrine or dogma. It's about teaching people the importance of loving your neighbour."

Asked about the Church's treatment of children in the past, he says: "The abuse of children by priests is a cause of deep shame to all Catholics. I look at my own school, it's run by lay people I trust. It has proper child protection systems in place."

Initiating change

It would seem though that after centuries of dominating primary-school education, change is coming.

In recent weeks, the Catholic Church has admitted it runs too many schools and that it is willing to give up control of some.

But the process of deciding which ones will be complex and will take many years.

Senior priest Fr Michael Drumm is involved in leading the change.

"We are going through a rapid phase of secularisation, and that's going to have a huge impact on the Church," he says.

"In terms of schooling, if the Church has fewer schools, the ones that remain Catholic would have a stronger identity and would be a clearer Catholic presence in society."

The Catholic Church's position in the Irish Republic is undergoing a fundamental change. The revelations of sexual abuse and its cover-up have dealt it a lethal blow.

In the past year, more than 1,000 people have formally defected from it. The Church's influence on society is now weaker.

And its slowly changing role in education is perhaps the strongest signal yet that the country is moving away from the clerical-dominated outpost that it once was.