Bishop Eddie Long | Attorney Blasts Accusers for Trying Case in Media

By Larry Hartstein and Christian Boone
Atlanta Journal-Constitution
September 29, 2010

http://www.ajc.com/news/dekalb/bishop-eddie-long-attorney-644577.html

Bishop Eddie Long's attorney ripped his client's accusers and their lawyer, B.J. Bernstein, on Wednesday for "attempting to try their lawsuits in the media."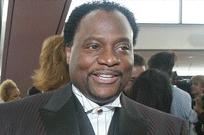 Bishop Eddie Long said Tuesday if people believed media reports, "I'd be scared to show up, I'd be scared to look at you. But there's something in me bigger than the situation."



"There are rules on how civil litigation is to take place and how counsel should conduct themselves, we intend to follow those rules," lawyer Craig Gillen said in a statement regarding a televised interview with Jamal Parris, one of four young men to file civil lawsuits accusing Long of sexual coercion.

Parris told WAGA-TV that he loved the Lithonia pastor but now considers him "a monster."

"This man manipulated us from childhood," Parris told WAGA-TV, who interviewed the 23-year-old outside a Colorado grocery store. "This was our father and we loved him."

Long, speaking to his congregation at New Birth Missionary Baptist Church Tuesday night, again did not directly address the sexual allegations made against him.

"I'm not speaking about the individuals and all of that," he said, according to Channel 2 Action News. "This is spiritual warfare."

Long said that if he thought people believed media reports on the scandal, "I'd be scared to show up, I'd be scared to look at you. But there's something in me bigger than the situation."

The suits also claim Long used his pastoral influence to entice them, including taking them on international trips and lavishing them with gifts.

A church spokesman says Long adamantly denies the allegations.

A group of 32 ministers attended the Lithonia church Tuesday night to pray with Long and show their support for the embattled pastor. Long's remarks during the service were somewhat cryptic.

"And I'm here to tell you whatever God spoke about me, whatever God said about me, it shall come to pass," Long said, according to Channel 2.

Parris said Tuesday he reached out to the bishop privately before filing suit.

"This man turned his back on us when he had no more need for us. That's not a man. That's a predator, Parris told WAGA."

"I cannot get the sound of his voice out of my head," he said. "I cannot forget the smell of his cologne. And I cannot forget the way that he made me cry many nights when I drove in his car on the way home, not able to take enough showers to wipe the smell of him off of my body."

Bernstein said she did not authorize the interview.

In a suit filed last Wednesday, Parris, a former member of New Birth Missionary Baptist Church and one of Long's "spiritual sons," claims the charismatic bishop made him call him "Daddy," exploiting his role as a father figure and mentor.

Long has denied the allegations and told his congregation Sunday he will "vigorously" fight the charges against him.

Parris and his mother joined New Birth in 2001 when he was 14. Within two weeks, Long gave the teen his personal cell phone number, the suit alleges.

Their relationship intensified during the 2004-05 school year, with Parris alleging that he was a regular at Long's guesthouse on Snapfinger Road.

"Long would discuss the Holy Scripture to justify and support the sexual activity," the suit alleges.