Priest from St. Bede Parish in Point Breeze Pleads Guilty to Virginia Molestation Charge

Pittsburgh Tribune-Review
September 29, 2010

http://www.pittsburghlive.com/x/pittsburghtrib/news/pittsburgh/s_701915.html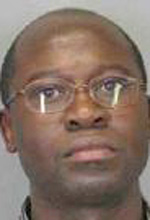 The Rev. Felix Owino



A priest who lived at St. Bede Parish in Point Breeze on and off between 1997 and 2006 pleaded guilty Wednesday to molesting an 11-year-old girl in Virginia.

The Rev. Felix Owino, 44, was arrested on July 8 in Fairfax County, Va., and charged with aggravated sexual battery of a minor, according to police. The girl he admitted to molesting is a member of the family with whom he was staying in Herndon, Va., at the time of his arrest, police said.

Owino is scheduled to be sentenced on Dec. 17, a Fairfax County court spokeswoman said. Prosecutors did not return messages seeking information on the terms of the plea agreement and what punishment he faces. Owino has been in jail since being arrested.

After learning about the criminal charges against Owino, Pittsburgh Bishop David Zubik sent a letter to St. Bede parishioners urging them to contact the Allegheny County District Attorney's Office and the diocese if they knew of anyone with whom the priest might have had inappropriate contact.

There were no accusations against Owino during the time he lived at St. Bede, and nobody came forward after the bishop sent his letter to parishioners, said the Rev. Ronald Lengwin, spokesman for the Pittsburgh diocese.

Owino, who is a native of Nairobi, Kenya, lived at St. Bede from September 1997 to May 2001 and again from September 2003 to January 2006, while attending graduate school at Duquesne University. He earned a master's degree in philosophy in 1999 and a doctorate in philosophy in 2005, according to school officials.