Former Priest Faces Further Molestation Charges

San Francisco Chronicle
September 29, 2010

http://www.sfgate.com/cgi-bin/blogs/inoakland/detail?entry_id=73445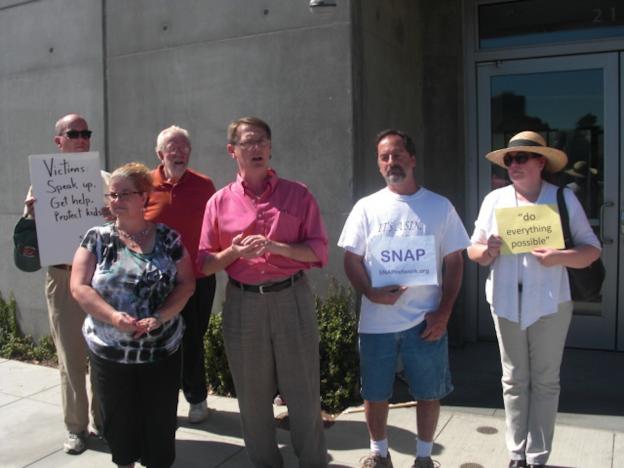 David Clohessy (center), SNAP national director, and supporters urge victims of abuse by priests to come forward Tuesday in front of the Cathedral of Christ the Light.



Members of the Survivors Network of those Abused by Priests (SNAP), a national support group for victims of sexual abuse by religious authority figures, came together Tuesday outside the Cathedral of Christ the Light in support of a newly filed sexual battery and negligence lawsuit against Father Stephen Kiesle and the Diocese of Oakland.

The complaint, filed in Alameda County Superior Court Tuesday, alleges that Kiesle sexually molested a female victim -- named Jane Doe in the document to protect her anonymity -- in 1995. This is the eighth sexual battery complaint brought against Kiesle this year.

"We're here to beg anyone who saw, suspected or suffered from Father Kiesle's crimes to come forward," said David Clohessy, SNAP national director, at the press conference. He exhorted anyone with relevant information to "get help, call police, expose wrongdoers and, most importantly, protect kids."