Priests Urged to Behave Prudently Amid Scandals

The Cathnews
September 29, 2010

http://www.cathnewsindia.com/2010/09/29/priests-urged-to-behave-prudently-amid-scandals/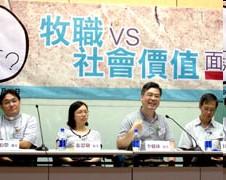 Lee Kin-hong (second from right) speaking at the seminar



A Hong Kong diocesan official has warned priests to be careful that their behavior not give rise to wrong impressions in light of the clergy sex abuse scandals in various parts of the world.

"Watching movies alone with a laywoman should be avoided in order not to create misunderstandings, even though you regard her as a younger sister," said vicar general Father Michael Yeung Ming-cheung.

The priest was speaking at a Sept. 25 seminar on pastoral ministries and social values organized by the Chinese diocesan weekly Kung Kao Po.

The diocese has guidelines for clergy, such as not being alone with a layperson in a room, especially a child or teenager. However, "it depends on the priests themselves to comply," Father Yeung said.

Sex scandals do not happen only in the Church, he said. However, they get the media's attention more easily, so priests should be cautious about their words and deeds, he added.

A few sex scandals relating to Hong Kong priests have been reported earlier this year.

Many laypeople have high expectations of their pastors, who are seen as having much power in the Church, said another speaker, Lee Kin-hong. But "power tends to corrupt," he said, adding that the behavior of some priests is worse than that of laypeople.

Priests should wear their Roman collar more often to remind themselves of their identities, he said.

Franciscan Sister Teresa Yuen, Kung Kao Po's editor-in-chief, agrees. "Priests and nuns should serve humbly and never forget their identity. Pride is very destructive as it keeps us from self-examination," she told ucanews.com.

Some members of the audience, during the question-and-answer session, also expressed regret that priests today are often burdened by administrative responsibilities which hinder their pastoral work.