Priest Pleads Guilty to Child Sex Charge

By Jennifer Compston-Strough
Wheeling News-Register
September 30, 2010

http://www.news-register.net/page/content.detail/id/542281.html?nav=515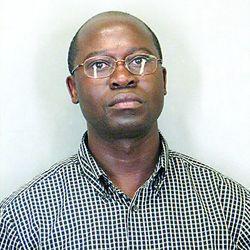 REV. FELIX OWINGO



WHEELING - A priest with ties to a pair of local communities pleaded guilty Wednesday to aggravated sexual battery against a child.

Barbara Kenney, a spokeswoman for Fairfax County, Va., Circuit Court, confirmed Felix C. Owino entered the plea on Wednesday in a case involving a minor younger than 13 years old. She said Owino - former associate pastor of St. Paul's Parish in Weirton who also taught at Wheeling Jesuit University - is set to again appear in circuit court Dec. 17 for sentencing.

Lt. Sonny Cachuela, information officer for the Fairfax County Sheriff's Department, said Owino remains lodged in the county's jail system.

"What I can confirm is that Felix Owino is currently being held without bond in the Fairfax Adult Detention Center and his next court date is Dec. 17," Cachuela said.

Neither Kenney nor Cachuela would provide details of the case or Owino's potential sentence; however, the Associated Press reported Owino was drinking alcohol the night he inappropriately touched an 11-year-old girl.

In a statement issued Wednesday, Bishop Michael J. Bransfield of the Roman Catholic Diocese of Wheeling-Charleston asked the public to pray for those involved in the case, especially the child victim.

According to information from diocesan spokesman Bryan Minor, Owino is a priest of the religious missionary congregation known as the Apostles of Jesus, the first African congregation of Catholic priests and brothers. He came to West Virginia in 2009 as an instructor in the philosophy department at Wheeling Jesuit University. He was provided with residence at St. Paul Parish in Weirton, where he provided coverage of parish Masses.

The diocese encourages anyone who has knowledge of any issues involving Owino to report it to the appropriate authorities or by using the appropriate diocesan reporting process.

To report suspected cases of sexual abuse by personnel of the Diocese of Wheeling-Charleston, call 888-434-6237 and speak with the Rev. Msgr. Frederick P. Annie, V.G., at ext. 267 or the Very Rev. Anthony Cincinnati, S.T.D., V.E., at ext. 270.

Originally from Nairobi, Kenya, Owino was ordained in 1992. Because he is not a U.S. citizen, published reports state, it is possible his sentence could include deportation.